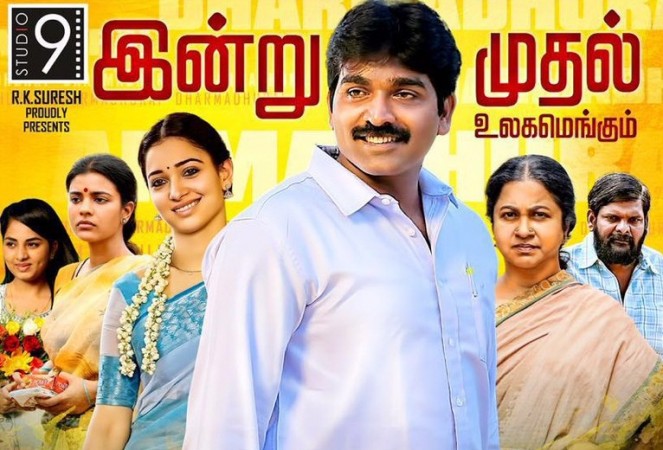 Vijay Sethupathi's "Dharmadurai" aka "Dharma Durai," which was released on Friday, Aug. 19, has garnered fairly positive reviews. The audience has liked the good performance of the artistes, but the shoddy writing at parts has drawn criticism from a section of audience.
Just in - Ajith's Photos from 'Thala 57' Out | 'Dharamadurai' Stills | Parota Soori Sees a Ghost, Shares the Video on FB
This is for the third time that Vijay Sethupathi and Seenu Ramaswamy have teamed up after their successful "Thenmerku Paruvakaatru" and "Idam Porul Yaeval," which is being delayed for some reason. Tamannaah Bhatia is the main female lead in the film and Aishwarya Rajesh and Srushti Dange have key roles in the flick, which has Raadhika Sarathkumar, Ganja Karuppu, Aruldas, Madhuvanti Arun, Rajesh and others in the cast.
Yuvan Shankar Raja has scored music for "Dharmadurai" and a few songs, including "Makka Kalanguthappa" have turned out to be hits. M Sukumar and Kasi Viswanathan are the other two important members of the technical team who have handled cinematography and editing departments.
Story:
Vijay Sethupathi plays the title role, a doctor and an alcoholic. His brothers hate him for his drinking habit. The hero suffers a lot of physical and mental torture before the the siblings devise a plan to kill him. With the help of his mother (Raadhika Sarathkumar), he escapes with an unexpected bag full of money. The hero visits his medical college to know about his buddies Subhasini (Tamannaah) and Stella (Srushti Dange) and flashbacks open up. Soon the audience will be told why there is so such much of hatred from his brothers towards him.
Review:
The movie has a good screenplay although the college episode fails to hold the viewers' attention. Performance wise, Vijay Sethupathi comes out with flying colours and proves once again that he is a fine talent. Tamannaah has a bold role and she shines with her acting. Aishwarya Rajesh is equally impressive and Raadhika Sarathkumar is brilliant in her character. Among the technical departments, it is Yuvan Shankar Raja's music which stands out from the rest. Below, find the highlights and audience response to the film:
Highlights of 'Dharmadurai'

Plus Point(s)
Good story.
Vijay Sethupathi abd Ganja Karuppu's performance.
Punch dialogues.
Tamannaah, Raadhika and Srushti Dange's good acting.

Minus Point(s)
Screenplay is not written well at parts.
Kannan: #Dharmadurai - Nice drama with superb performances & engaging screenplay with both tense as well as feel good moments. Go 4 it! (7.5/10)
#Dharmadurai - Seenu Ramasamy has effectively narrated the ups and downs of a Doctor's life with social elements & subtle emotional touch.
#Dharmadurai - Solid BGM and songs esp. 'Makka Kalanguthappa' by Yuvan & beautiful cinematography by Sukumar are big plus to the film!!
#Dharmadurai - Vijay Sethupathi terrific, Radhika & Aishwarya equally gud! Tamannaa restraint performance, Ganja Karuppu & supp cast superb.
Ramesh Bala: #Dharmadurai [3.25/5]: Dir @seenuramasamy has written and executed well with nativity.. A good watch..
#Dharmadurai [3.25/5]: @thisisysr 's songs r very melodious and enhances the movie.. BGM is top.. DOP #Sukumar captures southern TN well..
#Dharmadurai [3.25/5]: In the supporting cast, @realradikaa and #GanjaKaruppu stand out..
#Dharmadurai [3.25/5]: @srushtiDange as the Medical student has a memorable role.. She has done well..
#Dharmadurai [3.25/5] : After #KaakkaMuttai, this is @aishu_dil 's Best role.. Delivers a natural and touching performance..
#Dharmadurai [3.25/5]: @tamannaahspeaks delivers a matured performance.. Totally different from her usual roles.. Well done.
#Dharmadurai [3.25/5]: #VijaySethupathi deliverers an excellent performance.. Portrays 3 different stages in life.. Excels in subtle comedy
#Dharmadurai [3.25/5]: A Clean Winner.. Powerful Emotional drama.. 2nd half clicks big time.. Great Ensemble Acting.. Matured romance..
Praveen: #Dharmadurai — Where was #Yuvan @thisisysr all these days? Such an endearing music in sync with the rural setting.High point of the film
#Dharmadurai — @srushtiDange, @aishu_dil shine in their roles with #NRD mom - #Radhikaa and son #VijaySethupathi being its pinnacle.
#Dharmadurai — @tamannaahspeaks's best since #Kalloori. Meaningful, solid char & she pulls it off with ease. Kindly do such films often.
#Dharmadurai — 3/5 Dir.Seenu Ramasamy has come out with an absorbing rural based family drama. #VijaySethupathi as the village doctor rocks.
Mahavishnu Krishnamoorthy: ‪#‎Dharmadurai‬ - Want to see a perfect emotional film? Then must watch this one ! Very good emotional portions, beautiful casting & osm dialogues ! After Tamannah's entry in second half, movie goes very cutely ! A feel good family entertainer with normal story plot Congrats R.K Suresh sir for the selective production
Vinoth Kumar: #Dharmadurai -3.75/5. Dir #Seenuramasamy has executed the Screenplay naturally.Slow bt meaningfull with powerful Dialogues. Worth watching
Casting is very apt for the story line. Village backdrop with natural screenplay has worked out well.
#YuvanShankarRaja has rocked BGM in every scene extraordinarily. Top notch
#VijaySethupathi #Radhika #GanjaKaruppu scoring big time. After Kakamuttai #Aishwarya 's Best role till date.
Rajasekar: #Dharmadurai - @thisisysr's best in recent times. Superb songs and BGM, @aishu_dil too excels in a brief role :)
#Dharmadurai - however the college episode didn't create big impact. Shoddy writing there :/
#Dharmadurai - @tamannaahspeaks shines in a bold role. Loved @realradikaa's powerful performance as a caring rural mom
#Dharmadurai - neat feel good drama with aptly written characters and performances. Vijay Sethupathi shines
Kaushik (LMK): #Dharmadurai -@realradikaa can do such mother roles even in her sleep. She brings such skills. #VijaySethupathi - the actor scores well too
#Dharmadurai - @thisisysr is a major pillar for the film with his songs and RR. #Yuvan in solid form & Dop Sukumar delivers scenic visuals
#Dharmadurai - 3/5.. A pretty wholesome film from #VijaySethupathi @seenuramasamy. Shows the redemption of a doctor. Solid rural connect
#Dharmadurai 1st half -First 30mins is superb with #VijaySethupathi's uninhibited acting & the family tensions. College flashback is average
#Dharmadurai 2nd half - good!! Nice ending.. Has an emotional flashback with @aishu_dil & a bold segment with @tamannaahspeaks. Shd work
ChristopherKanagaraj: #Dharmadurai - Decent first half, expected more from Seenu Ramasamy. 1st hlf doesnt reveal much depth in story. Hopefully 2nd hlf vl b betr. #Dharmadurai - Good second half. Flashback portions superb. Vijay sethupathy, Radhika and Aishwarya Rajesh acting sema. Yuvan songs r gud.
Bala Sundaram: #‎Dharmadurai‬ :- Bad Treatment from a Good n Trusted Doctor (Director Seenu Ramasamy. Unexpected product from u sir) . If this wins - Then All hail ‪#‎VijaySethupathy‬
Rating : 2.5/5