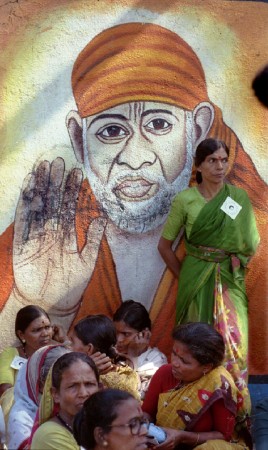 Sai Baba devotees were ousted from the stage after they verbally attacked Dharma Sansad led by Dwarka Peeth's Shankaracharya Swami Swaroopanand for passing a resolution, according to which Sai was neither God nor Guru.
Miffed by Sansad's declaration, three Sai devotees went up on stage and accused the saints and gurus at the Sansad of being unable to prevent cow slaughter in India and protect the Ganges river.
One of the three devotees, Manushya Mitra claimed that the Sadhus attending the convention hesitated to go on hunger strikes in protest of cow slaughter and instead are speaking against Sai Baba.
Following the allegations, Shankaracharya's followers forced Sai devotees off the stage.
On the second day of the religious convention in Chhattisgarh, the Dharma Sansad passed six resolutions, one of which stated that 19th century saint Sai Baba should be be worshipped as a deity.
"Kashi Vidvat Parishad has taken a decision that Sai Baba was neither a god nor a guru, therefore he cannot be worshipped," Dharma Sansad's media person Rajesh Joshi told PTI.
Shankaracharya Saraswati further asked his followers to remove idols and photos of Sai Baba from temples across the nation and asked Sai's devotees not to worship him.
"Dharma Sansad has adopted many resolutions, including one which stated Sai Baba cannot be worshiped as God. Kashi Vidyat Parishad will soon make a formal announcement on the decisions taken by Dharma Sansad," Joshi told The Times of India.
The other resolutions that the Sansad passed included construction of Ram Temple in Ayodhya, preservation of Ganga, introduction of Gita, Ramayan and Mahabharata in school syllabus.