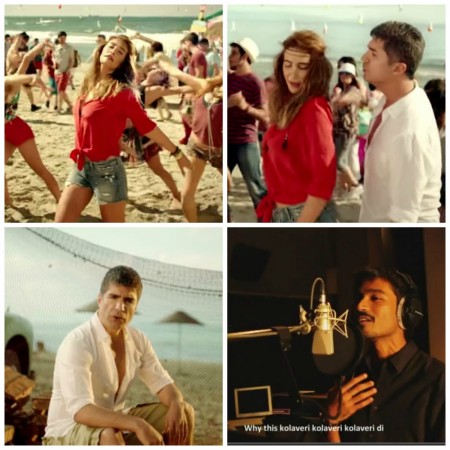 Tamil superstar Dhanush's "Why this Kolaveri Di" song became an instant hit in 2011, after its studio video, featuring the actor, his wife Aishwarya, Shruti Haasan and Anirudh Ravichander was accidentally released online.
Now, the song has got a Turkish version for soft drink brand Coca-Cola's new 2:48 minute commercial "Aç Bir Koka Kola, Koka Kola, Koka Kola İç".
However, the Turkish version has also now gone viral in India and has received more than three lakh views within two days of its release on YouTube.
Watch the commercial below:
The original song video received more than 3.5 million views in a week and after three years it has now been watched more than 92 million times.
The song was composed by Anirudh for Ranijikanth's daughter Aishwarya's directorial venture "3", featuring Dhanush and Shruti in the lead.
The song caught the attention of many for its quirky Tanglish (Tamil+English) local slang and simple tune.
Following this, many other "Kolaveri" versions, including Sonu Nigam's son Nevaan Nigam's "Milk Version" also hit the cyber world.
In 2013, a Turkish pop singer had also used the "Kolaveri" tune for her album "Sade".
Watch the album song below:
Watch the original 'Why this Kolaveri Di' song below: