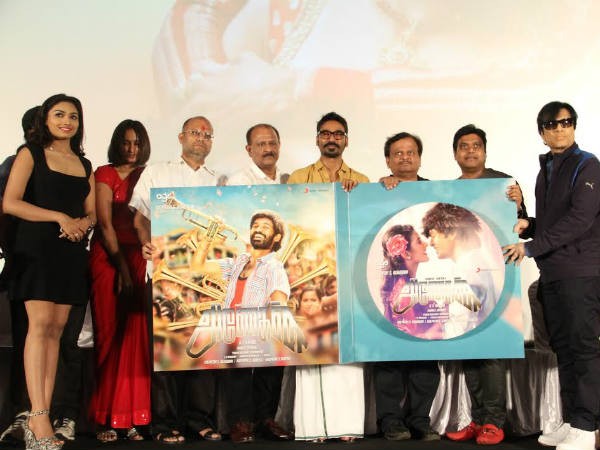 The songs of the much awaited Dhanush movie "Anegan" was released on Monday (10 November) and have opened to positive reviews from the critics.
The film has a total of six songs, composed by Harris Jayaraj and critics have reviewed them as typical Harris composition.
The songs of "Anegan" are sung by a versatile bunch of singers, including Dhanush, Marana Gana Viji, Naveen Madhav, Chinmayi, Shankar Mahadevan, Sunidhi Chauhan, Abhay Jodhpurkar, Bhavatharini, Tippu, Eden, Ramya NSK, Richard, Shail Hada, Vickey, Hariharan, Shakthisree Gopalan and Sriram Parthasarathy.
The lyrics of the songs are written by Rokesh, Vairamuthu, CS Amudhan, Vairamuthu and Kabilan. The critics have opined that most of them are beat oriented songs, which are similar to Harris' previous outing.
"Anegan", directed by KV Anand stars Dhanush and Amyra Dastur in the lead. The film is scheduled to hit the theatres on 5 December.
Here are the reviews of "Anegan" music by various critics.
"Danga Maari Oodhari" Singers: Dhanush, Marana Gana Viji, Naveen Madhav; Lyrics: Rokesh [Listen Here]
"A rustic styled track with thumping rhythms and raw folk vocals. The trumpets and nadaswaram join the unique celebration! However, it is the bass work which stands out. Watch out for the faint piano touches which add an overall good aura." – Behindwoods
"The 'Kuthu' genre is one of the weakest weapons in Harris Jayaraj's arsenal, but he has written off that complaint by delivering an extreme foot tapping North Madras'ish Gana with the help of Dhanush & Marana Gana Viji. The song opens up with the trumpets followed by Nadhaswaram in the first half and Harris tones down the excitement in the interlude, only to offer a more electrifying experience. An instant Chartbuster material." – Indiaglitz
"This one cracker of a sing which will get you going no matter what. Marana Gana Viji and Dhanush have gone all out and keeps the tempo up with their energentic singing. HarrIS Jayaraj has fibally managed to give his most "local" kuthu yet. The energentic interlude already popularised in trailers help the overall recognition factor of this song. The beautiful variation towards the end with subtle piano accompaniments ensure that this is not a mindless kuthu number. The sing with catchy lyrics are an instant wineer." – Movie Crow
"Roja Kadale", Singers: Chinmayi, Shankar Mahadevan, Sunidhi Chauhan, Lyrics: Vairamuthu [Listen Here]
"An upbeat composition with trance rhythm fused gracefully over tabla and superior bass work. Despite the Deja-Vu feel it generates, the sequencing and good vocals make it interesting." – Behindwoods
"It is good to see composers going back to Shankar Mahadevan and he delivered a spirited performance once again. Shankar hasn't dissected the beautiful verses written by Vairamuthu and gets the pronunciation right for words like, 'Neervaarkuzhale' &'Sevvel Vizhiye' speaks volume about his prowess over the language. The 'Tabla' in the background, combined with Harris's multi-layered composition will keep you occupied for a while before jumping to the next track."- Indiaglitz
"Respectable track plagued by déjà vu feel at places. The song borrows from a handful of numbers by Harris himself. The song's tempo is upbeat without dropping pace at any point. Just when one may be tempted to write off, the well structured orchestration and the second stanza variation in tune redeems the song."- Moviecrow
"Aathadi Aathadi", Singers: Abhay Jodhpurkar, Bhavatharani, Dhanush, Tippu, Lyrics: Vairamuthu [Listen Here]
"A relaxing composition with the masterful blend of ghatam and lilting guitar. It also has a neat mild piano base." – Behindwoods
"No experiments, no over the top orchestrations; just a simple tune conveys the love between the lead pair and sounds beautiful on the ears. It is Bhavatharanini's vocals stands out from the group and others do accompany her effectively to round off a neat melody." – Indiaglitz
"Iiayaraja's daughter Bhavadharani singing Vairamathu's lyrics in Harris Jayaraj composition will make one sit up. Bhavadharani has got the meatier lines in the songs with Dhanush shows up only for a couple of lines in between Abhay Jodhpurkar's who primarily balances Bhavadharini's lines. This melody number with backing from ghatams and no gimmicky arrangements is easy on one's ears/ The lyrics point that the song may be set in Rangoon, Burma giving tremendous scope for interesting visuals to further enhance the songs."- Moviecrow
"YOLO - (You Only Live Once)", Singers: Eden, Ramya NSK, Richard, Shail Hada, Vickey; Lyrics: C. S. Amudhan [Listen Here]
"This track has the coolness of American Country music and groovy rhythms of the carribean reggae. Special mentions for the effortlessly laid back vocals."- Behindwoods
"Harris's penchant for experiments is quite evident throughout the song. The idea of roping in C.S. Amudhan (Director of Tamil Padam), who is known for his witty remarks in social networking sites is unique and he effectively made use of the most popular slang in the internet world, YOLO, as the key word in this track. The usage of the Caribbean beats clubbed with 'YOLO' chorus provides a weekend feel right away."- Indiaglitz
"This song YOLO with acronym that stand for "You Only Live Once" is a peppy summer-club number ewith Caribbean instruments. The song gets the mood and spirit well in the beginning and gets slightly tedious in the middle as rappers take control over the song. This much discussed lyrics in this song is written by the director CS Amudhan."- Movievrow
"Thodu Vaanam", Singers: Hariharan, Shakthishree Gopalan, Lyrics: Vairamuthu [Listen Here]
"A typical Harris styled duet in the midst of Hip-Hop rhythm section and safe chord progression. The 80s styled riffs are heard throughout."- Behindwoods
"How can there not be a song with the repeated churns of catchy verses with the chorus in a Harris Jayaraj album? Well, here it is! Harris got the knack of delivering an instantly likeable melody which rules the playlist for a long time, and this track could well end up serving that purpose. Both the singers did a prolific job to elevate the excellent tune. Watch out for the interlude between 02.57-0.3.37."- Indiaglitz
"The pathos number with some fluctuating orchestration and some high pitch singing by Hariharan are the highlights of this song. Shaktishree is relegated to singing chorus during the initial stanzas and comeback strong to render the last couple of lines and leaving you with a heavy heart. Thodu Vaanam is one of the better songs this album and appears to be situational' – Moviecrow
"Deivangal Ingae", Singers: Sriram Parthasarathy, Lyrics: Kablian [Listen Here]
"A feel good composition with breezy vocals. The usage of electric guitar and Aria solo in the interlude does make an impact." – Behindwoods
"The album comes to an end with one more Harris'ish melody, but, this time, lyricist Kabilan Vairamuthu shines with his verses like, 'Maamalai inge, 'manichigai' inge, manjal sindhum veyil enge'.'Manichigai' is a flower, quoted by Kabilar in sangam literature, finds its way once again in modern literature. Sriram Parthasarathy, who rose to fame with 'Ananda Yazhinai' has made a stellar impact once again with his unique rendering." – Indiaglitz
"This short song in the album showcases Sriram Parthasarathy's solo singing capabilities.The song has few high moments in its lyrics which are accentuated by Harris' music."- Moviecrow