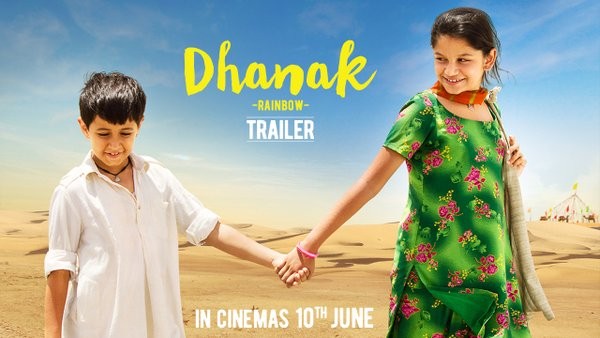 The makers of the upcoming movie "Dhanak" have released its trailer and it suggests the film will be a tribute to Bollywood superstar Shah Rukh Khan in an interesting and unique manner. The film is about a girl who is a big fan of Shah Rukh, and believes he is the only person who can help her get her brother's eyesight back.
The trailer of "Dhanak" shows a girl named Pari, who is an ardent fan of SRK, and has a brother named Chotu who cannot see. Pari has promised Chotu he will be able to see before he turns nine, and the girl believes it is only Shah Rukh who can help her in the mission.
Thus, the two siblings set off on a journey across the vibrant Rajasthan desert to meet Shah Rukh, who is shooting in the state. Along the way, Pari and Chotu come across a number of interesting characters.
Interestingly, Shah Rukh's upcoming movie "Fan" is also about a fan, though the trailer of the film suggests that the character will have a negative shade.
While "Fan" will have a lot of drama and action, "Dhanak" is a much simpler and subtler story of a fan who has utmost faith in the superstar. Directed by Rahul Dholakia, "Fan" is slated to be released April 15 and it seems to be the perfect time to release the trailer of "Dhanak," as it is a story about an SRK fan and her brother.
Directed by Nagesh Kukunoor, "Dhanak" features Hetal Gada, Krrish Chhabria, Rajiv Lakshman, Vipin Sharma, Fllora Saini, Suresh Menon, Vibha Chhibber, Vijay Maurya and Chet Dixon. The film will hit the screens June 10. Check the trailer of "Dhanak" here: