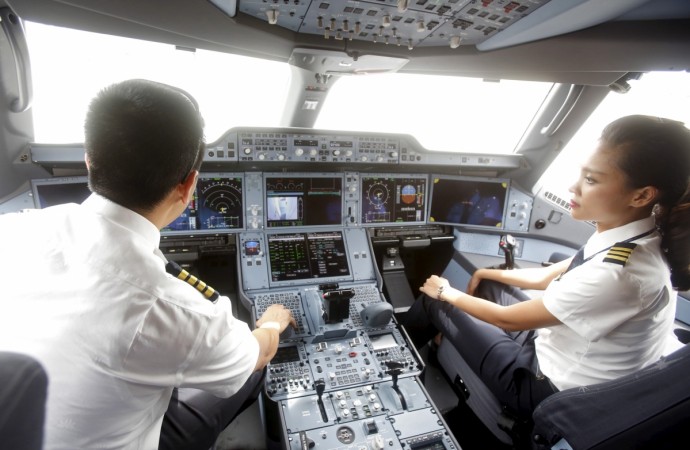 In an effort to cut back on flight operation disruptions, Directorate General of Civil Aviation (DGCA) on Monday announced a proposal that pilots coming late for flights as well as reporting sick just before a scheduled flight are likely to face tough consequences. This means in extreme cases, the harsh action may result in cancellation of the pilot's license or the pilot being temporarily grounded.
The DGCA has said the proposal is currently at a draft stage and will be put up for public consultation. It may get finalised during the second week of December 2016.
"Any act on the part of pilots wherein they pretend to be sick to escape flight duty or report late to the aircraft or do not undertake the flight even after reporting for flight duty or are unwilling to follow the dynamic roster, which results in last minute of flight disruptions and may imperil the safety of aircraft operations, would be treated as an act against public interest and shall attract enforcement action them," the draft proposal prepared by B S Bhullar, director-general of civil aviation said, Times of India reported.
The proposal comes against the backdrop of Jet Airways pilots going on mass sick leave last week, which had led to thousands of passengers being stranded as the airline's schedule was affected.
Airline body slams proposal
The draft proposal has drawn flak from airline officials, pilots and flight examiners alike who did not welcome the move.
"This move by DGCA is at the behest of some airlines who are using the DGCA 'as a shooter'. The move runs contrary to every known tenets of safety, since sick (physically and mentally fatigued) pilots will be forced to operate)," an airline executive was quoted as saying by the International Business Times, India edition.
Echoing similar thoughts, a retired Boeing 737 examiner told TOI that "the draft will have a direct impact on flight safety as calling in sick would now bring repercussions. The draft leaves a number of loopholes that could be exploited by the airline management. " He further said: "How can an airline doctor conclusively prove that a pilot has 'pretended to be sick'? What if the pilot believes he/she is too fatigued to operate a flight? Should such a pilot go for duty nevertheless fearing that the company doctor might give a negative report?"
A leading airline pilot, who did not wish to be named told IBTimes India, "what if the pilot is forced to operate the flight in an unwell or sleep deprived condition? wouldn't it lead to possibilities of accidents? In which case, the DGCA will be held responsible."