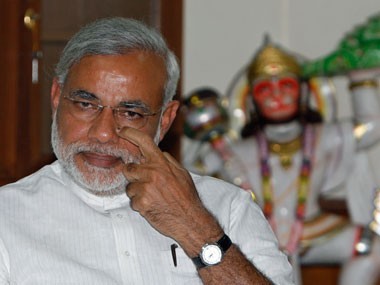 The Central Bureau of Investigation (CBI) has confirmed that it will examine the resignation letter of jailed IPS officer D G Vanzara in connection to the probe in the Ishrat Jahan fake encounter case.
Vanzara is one of the accused in the fake encounter cases of terrorists Sohrabuddin Sheikh, Tulsiram Prajapati and Ishrat Jahan.
He had submitted his resignation on Monday and accused the Modi-led government of failing to protect the 'loyal soldiers'. In his resignation letter, he slammed Gujarat Chief Minister Narendra Modi for shielding former Home Minister Amit Shah at the behest of police officers
The state government did not accept his resignation.
Vanzara's letter did not carry any evidential value in the probe of the Ishrat Jahan fake encounter case, but now the CBI has changed its mind. The CBI has decided to probe the contents of the letter after a PIL was filed by two advocates in the Supreme Court on Thursday.
"We will examine contents of Vanzara's resignation letter and see whether any fresh leads can be pursued from it," CBI director Ranjit Sinha told PTI.
Sinha added that the investigation is in its final phase and another chargesheet will be filed soon. "We have already sought time from the court to file supplementary charge sheet in the case," he said.
The petition alleged that the letter "goes on to show in great detail the manner in which an encounter is carried out by state government". The advocates claimed that Vanzara's statement might be essential in the fake encounter cases.
"Direct CBI to take steps for securing the confession of Vanzara, who is one of the prime accused in the Sohrabuddin Sheikh and Tulshiram Prajapati encounter cases, before a judicial officer as per the provisions of CrPC and Indian Evidence Act so that the confession is legally admissible and cannot be retracted in judicial proceedings," the petition said.
The Gujarat police had claimed that all the encounters were of terrorists who were on a mission to assassinate Modi. However, Vanzara's letter has accused Modi of allegedly protecting himself and his aide at the cost of the arrested officials.