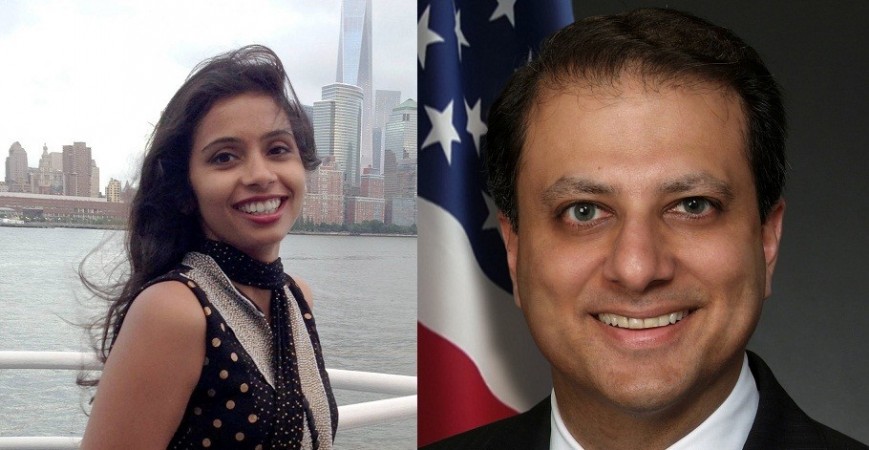 Indian diplomat Devyani Khobragade has been granted full diplomatic immunity and is returning back to India on Friday on request of the United States government after she was indicted in a US court for alleged visa fraud.
"On 9th January 2014, the Government of India transferred Counsellor Khobragade to the Ministry of External Affairs in New Delhi. At the time of her departure for India [from New York], Counsellor Khobragade reiterated her innocence on charges filed against her," the Ministry of External Affairs said in a release.
The step was taken by New Delhi after US Attorney Preet Bharara declared in a letter to District Judge Shira Scheindlin that 39-year-old Khobragade was indicted on two counts - visa fraud and making a false statement regarding the monthly payment of her domestic help. If Khobragade returns to the US without any diplomatic immunity she will have to face trial.
"The charges will remain pending until such time as she can be brought to Court to face the charges, either through a waiver of immunity or the defendant's return to the United States in a non-immune status. The time between now and the time that she is able to be brought before the Court is excluded automatically under the Speedy Trial Act, pursuant to Title 18, United States Code, Section 3161(h) (3)(A), which provides for the exclusion of any period of delay resulting from the unavailability of the defendant," Bharara was quoted saying in his letter by PTI.
The US government had asked the Centre to waive Dr Khobragade's immunity, due to criminal charges filed against her, but the Indian government rejected the proposal outright. Hence, she was asked to leave the country, a Washington official told Reuters.
Dr Khobragade showed her diplomatic immunity in the court after being accorded the privileges and immunities of a diplomatic envoy.
MEA Spokesperson Syed Akbaruddin announced on Friday that Dr Khobragade was given G1 visa with full diplomatic immunity on 8 January by the US State Department and she is on her way back to India.
#Devyani Khobragade given G1 visa by #USA according her full diplomatic immunity. #India transfers her back. She is now flying home.

— Syed Akbaruddin (@AkbarMEA) January 10, 2014
Dr Khobragade, a 1999-batch IFS officer, was arrested on 12 December in public and later released on a $250,000 bond.
The diplomatic row between the two nations excalated after media reports revealed that she was strip searched and held with criminals during her arrest.
After the row broke out, her passport was kept in the court's custody, which was criticized by several Indian ministers, while security bollards were removed from outside the US Embassy in New Delhi.
Latest Reactions
Uttam Khobragade, Devyani's father: I express my gratitude and thanks to people of India, all the political parties, the media, Ministry of External Affairs and its staff and especially the Indian government for their support.
Because of the support of the nation, my daughter is coming back to her country. Entire nation stood together at time of crisis my family was undergoing, I thank all. To uphold the sovereignty of the nation she sacrificed all her comforts. She as a proud Indian gave importance to sovereignty of nation and believed in judicial system of India.
Though she was charged for visa fraud, she knew she hadn't done it. They (US) said pay little fine to court and charges will be dropped and can continue to stay in US. She refused to do so by saying that this will be compromising the sovereignty of my nation. Government of India has done its best, I am sure they will continue doing so and will make sure charges are dropped.
Sujatha Singh, Foreign Secretary, MEA: I am glad my officer is finally coming home, back at the MEA. We are happy about it.
Shivanand Tiwari, JDU general secretary: I welcome such a step. For the first time the Government of India has taken a firm stand.
PC Chacko, Congress MP: We have proved no one can take India for granted. What happened was most unfortunate. We took the strongest measures and we are happy about it.
Yashwant Sinha, BJP MP: To bring back Devyani Khobragade is a loss for us not a victory, the case against her will continue as decided by US. If I was the External Affairs Minister, I would have sent US Ambassadors back and summoned Indian Ambassadors
MEA Spokesperson Syed Akbarrudin's interview on Devyani Khobragade's return to India