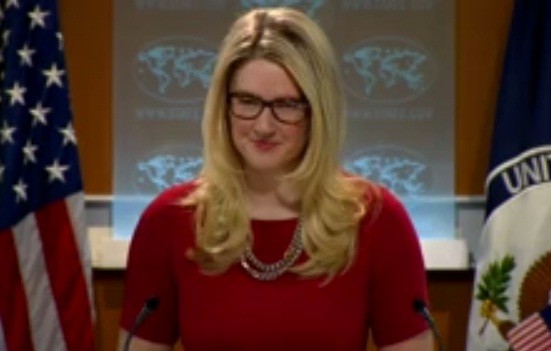 While the US 'absolutely' hopes to resolve the diplomatic row regarding visa fraud case of Indian Deputy Consul General Devyani Khobragade, her lawyer has sought to delay the proceedings.
State Department Deputy Spokesperson, Marie Harf, assured during a press briefing that the US does not want the bilateral ties between the two countries to be affected by the arrest of the Indian diplomat in New York last month.
"We don't want this to define our relationship going forward and don't think that it will. If you look throughout the region, if you look at Afghanistan, if you look at energy issues, economic issues, we have a whole host of things we work together on. And those are very important and shouldn't be derailed by this incident," Harf said, noting that the Khobragade case was an isolated issue.
Meanwhile, in his letter to a federal magistrate judge in New York, Khobragade's lawyer Daniel Arshack asked to extend the date by which the US government must file an indictment or commence a preliminary hearing, scheduled for 13 January.
As per a Reuters report, Arshack wrote in his letter, "Significant communications have been had between the prosecution and the defense and amongst other government officials and it is our strong view that the pressure of the impending deadline is counterproductive to continued communications."
The tensions between India and the US bilateral were created after Khobragade was arrested on 12 December on one count of visa fraud and one count of making false statements in the document regarding the payment to her housekeeper. She was strip searched on the day of her arrest and released on $250,000 bail.
On Tuesday, HRD minister of state Shashi Tharoor criticised the US government for not dropping the charges against Khobragade, as she was arrested while she enjoyed full diplomatic immunity.
"Indians remain bewildered that the US State Department would so willfully jeopardize a relationship that American officials had been describing as "strategic" over a practice routinely followed by foreign diplomats for decades. Most developing-country diplomats take domestic staff with them on overseas assignments, paying them a good salary by their national standards, plus a cost differential for working aboard," he wrote in an opinion piece on Prague-based site - Project-Syndicate.
He said that the Indian government had shown generosity towards US diplomats in India, who enjoyed a much lower level of immunity as compared to Khobragade.
"Now, with the same spirit shown to be lacking from the other side, the friendship has suffered. Until the US displays appropriate deference to the sensitivities, pride, and honor of other peoples and cultures, it will continue to be resented around the world," he added, noting that to sustain a strategic partnership both side need to maintain 'mutual respect'.