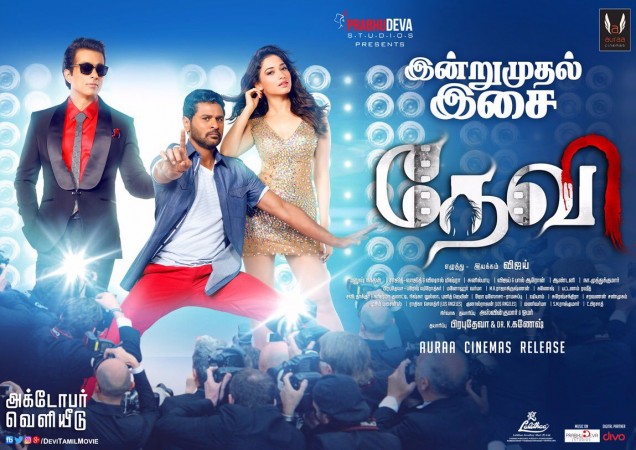 Devi is a horror-comedy in which Prabhu Deva, Sonu Sood and Tamannaah Bhatia are playing the lead roles. It has been simultaneously made in Telugu as Abhinetri and in Hindi as Tutak Tutak Tutiya.
Rekka Movie Review | Remo Review
The film has RJ Balaji, Sathish, Nassar, Abijith Paul and others in the supporting cast. Amy Jackson has done a special number in the flick. AL Vijay, who is known for making films with strong subjects, has tried out his hand at horror-comedy for the first time. It has been a successful genre in Kollywood. Hence, people are curiously looking forward for the release of the flick.
Bollywood musicians Vishal Mishra and Sajid-Wajid have scored the music and two songs - Chalmaar and Rang Rang Rangoli - have lived up to the expectations of the audience. The film has Manush Nandan's cinematography and Anthony's editing.
The makers of Devi, which will be released worldwide on Friday, October 7, have gone all out to promote the film. All the three versions have been marketed well, thereby trying to create a good pre-release buzz.
Story:
Krishna (Prabhu Deva) wants to marry a modern girl. But luck is not favour as he fails to find one. Finally, he ties the knot with a village belle Devi (Tamannaah) and moves to a flat. There an evil named Ruby, who was an aspiring actress, possess his wife. What happens next should be seen on-screen.
Reviews:
Devi has garnered fairly positive reviews. The decent storyline backed by good performances of Prabhu Deva and Tamannaah Bhatia have won the hearts of the viewers. Below, find the audience's response to the flick:
Ram Singh: #Devi- just an average film. Not much comedy and predictable story.
#Devi- Prabhu deva's acting is brilliant...Tamanna is hot and her dance are treat to watch.
#Devi- story is not new...average film in the end.
Umair Sandhu: Indian Cinema Magazine UAE #TutakTutakTutiya. @PDdancing @SonuSood @tamannaahspeaks Steals the Show all the Way. Full Paisa Vasool. 3.5*/5*
ChristopherKanagaraj: #Devi (L) - Average movie. Less comedy, predictable storyline, nothing new. Prabhudeva expressions super. Glamorous Tamanna. Dance awesome!
#Devi - Okayish 1st half, Dance choreography for 'Chalmar' & 'Kokkamakka' superb. Few comedy scenes r gud. Old story. Gud tat its just
1 hr. Showtime #Devi
Mizta Nesh: #Devi is a superb comeback by @PDdancing semma comedy by @RJ_Balaji worth watching semma dance by @tamannaahspeaks
Mahavishnu: #DEVI - A feel good romantic comedy entertainer ! Complete treat for audience ! Must watch with family — feeling loved
SathishMSK: #Devi @tamannaahspeaks rocks as Devi (Village Girl) & Ghost (Ruby) in this Ghost Comedy Movie without scary scenes. Choreo was excellent
#Devi Tamannah rocks as Devi (Village Girl) & Ghost (Ruby) in this decent Ghost Comedy Movie without scary scenes. Choreo was excellent. RJ Balaji comedy has come out well. Villain Sonu Sod has performed well. But, it would have been better if Tamil Actor has done that role. Prabhu Deva is back as how he left as an actor after 12 years.
#Devi RJ Balaji one liner works. Villain Sonu Sod has performed well. But, it would have been better if Tamil Actor has done that role
#Devi Prabhu Deva is back as how he left as an actor after 12 years. Choreography for Tamannah song was awesome