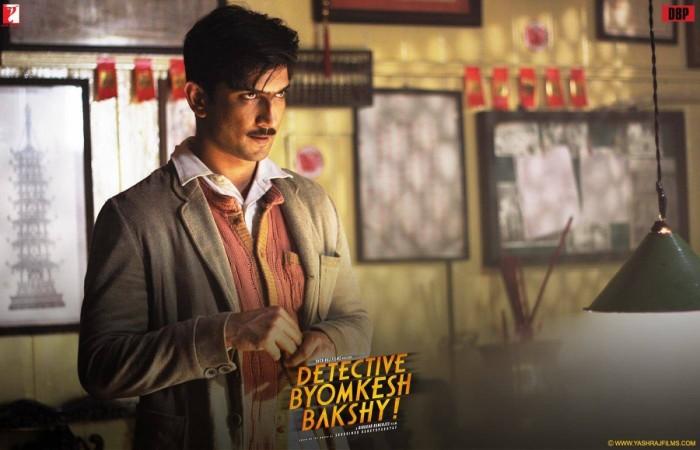 IBTimes India Rating: 4
War-stricken rusty Calcutta, a drug nexus, and supremely crafty detective Byomkesh Bakshy (Sushant Singh Rajput), Dibakar Banerjee's latest is as thrilling as it can get.
For the uninitiated, Byomkesh Bakshy is prolific Bengali writer Sharadindu Bandyopadhyay's creation. In his stories, the protagonist preferred to be known as Satyanweshi, the seeker of truth.
The story opens with Bakshy landing his first case: To find the whereabouts of classmate Ajit Bandyopadhyay's (Anand Twari) missing father, who went off radar under mysterious circumstances.
As he begins putting pieces of the puzzle together, the narrative unfolds grim secrets which eventually led to the big show.
Unlike other crime-solving heroes we have seen on screen of late, this guy is not totally perfect. Although he knows his moves well, there are times when he misjudges and falters.
What's best about this thriller is it never only sticks to the whodunit ritual, allowing every character to evolve as the story moves forward. Layered and difficult to pierce, each soul has something to hide.
Dibakar's keen eye for detail and cinematographer Nikos Andritsakis' gifted ability to capture every frame in all of its charm is what makes the chaotic Calcutta more relatable. There's generous amount of blood, but it never overflows beyond the script.
Few films old, Sushant proves he's in for a long haul with this one. Not moving an inch away from the character of Bakshy, the actor breathes believability factor to his role. Clad in dhoti and sporting a unibrow, he brings the deft detective of the stories to life pretty well.
Swastika Mukherjee, who makes her Bollywood debut, is her seductive best as Anguri Devi. Meiyang Chang's Kanai Dao was commendable too.
The background score needs a special mention as it never gives away the plot, instead builds a slow excitement for the viewers.
In a nutshell, "Detective Byomkesh Bakshy" is a case shut brilliantly.