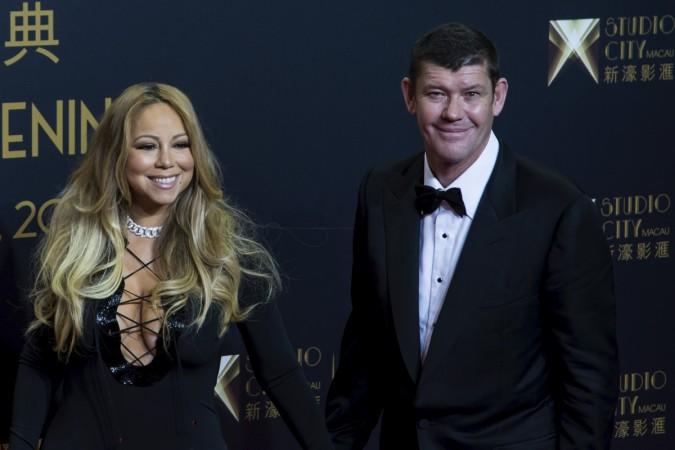 Mariah Carey and Australian businessman James Packer were drawing up a "crazy" prenup which has now been leaked. According to the document, Packer would have control over their finances, the use of his private jet, her clothing and the amount that could be spent on their gifts.
Carey and Parker's prenup, which was leaked to TMZ, stipulates that the singer will receive $6million after every year of their marriage. The businessman wanted to pay a total of $30million.
"James will pay Mariah, and Mariah shall accept, $6 million dollars per year for each full year of marriage, up to a maximum of $30 million ... adjusted pro-rata on a weekly basis [$151,385 per week]," a provision in the the prenup states.
However, sources said that Carey, whose net worth amounts to $520 million, wanted a total of $50 million if the couple split.
But a yearly amount for Carey isn't the only thing that's included in the prenup. The document also includes an upper limit on the money the singer and her team could spend. To this end, he was willing to issue a credit card.
Furthermore, the 49-year-old Australian businessman stated that he would spend a certain amount on Carey's clothing which cannot be worn during concerts or on business. In addition to this, Packer wanted the singer to spend on her children's clothing.
Packer, who reportedly wanted to marry Carey on March 1, has also stated that no item of jewelry and/or personal adornment costing over $250,000 would be considered as a gift unless accompanied by this statement: 'This is my gift to you.'
Carey's team, which obtained the document through Packer's executive, Robert Rankin, ultimately rejected it, calling it "tacky and insulting," according to TMZ.
It is believed that neither Carey nor Packer signed the prenup but a Daily Mail article claimed that the Australian businessman berated his lawyers for taking too long to draw up the document.
The Hero singer and Packer split in September after getting into a huge fight during their vacation in Greece.
However, Carey was seen wearing her $10 million engagement ring when she stepped out for dinner with her kids in Los Angeles just recently.
According to sources, the Grammy award winning singer wants a sum of $50 million as an "inconvenience fee" but this hasn't been confirmed yet.