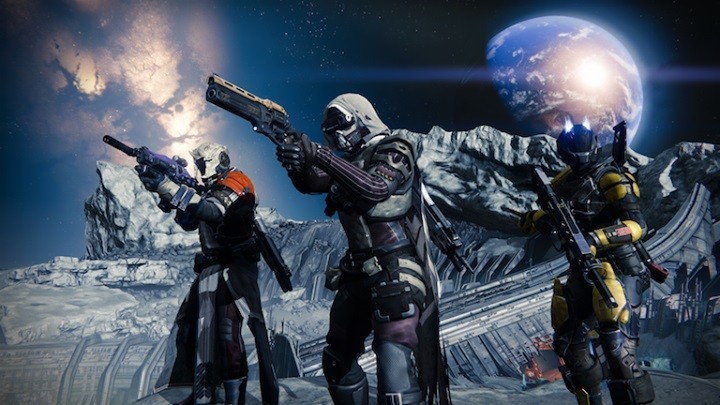 Destiny's in-game character, Xur Agent of the Nine, will be back in the reckoning during 30 January -1 February weekend. Xur appears only during the weekends.
Xur is the merchant within the Tower, who comes with new exotic weapons, armours and other rare goods for players who have saved Strange Coins and/or Motes of Light.
As is already known, he is found only in the weekends starting form 9 AM on a Friday to 9 AM Sunday.
Note: Xur can be found at Tower north across from speaker.
Since the launch of Dark Below DLC in December 2014, Xur brings with him a combination of both new and upgraded items for players willing to shell out their Strange Coins. Though not all the items that Xur has with him might be game changers but it might be helpful anyway.
Below are the items in Xur's inventory that will be available this weekend (Gamepur):
Xur will be selling the following items:
Mk. 44 Stand Asides - 144 STR [Exotic Titan leg armour] – 13SC
Don't Touch Me - 82 DIS [Exotic Hunter gauntlets] – 13SC
Starfire Protocol - 144 INT [Exotic Warlock chest armour] – 13SC
Dragon's Breath [Exotic rocket launcher] – 17SC
Glove Engram
Exotic Shard – 7SC
No Heavy Ammo
Below is the list of upgraded Exotics
ARMOUR – Mask of the Third Man, Young Ahamkara's Spine, Helm of Inmost Light, Crest of Alpha Lupi, Skull of Dire Ahamkara, Sunbreakers
WEAPONS – Suros Regime, Thorn, Universal Remote, Pocket Infinity, Ice Breaker, Super Good Advice
Meanwhile, in the latest Weekly update, Bungie said in a post that players can expect some "heavy ammo" for the next update.