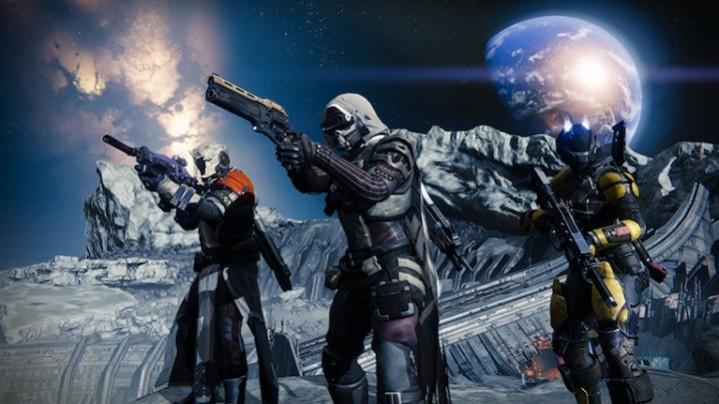 Destiny's in-game character, Xur Agent of the Nine, will be back in the reckoning during 19 -21 December weekend. Xur appears only during the weekend and players will find him at the Tower. Xur will appear with a new set of exotic weapons, armours and other rare goods for players who have saved Strange Coins and/or Motes of Light.
Note: Xur can be found in the Tower North. Players will find him standing in the large doorway across from the Speaker's Observatory.
Xur will be available only till 21 December 2014 and will disappear until next weekend.
Below are the items in Xur's inventory that are non-modified:
Ruin Wings
Class: Titan
Type: Gauntlets
Defense: +333 / 366
Light: +30 / 36
Strength: +94 / 101
Heavy ammo drops more often and contains more ammo in each drop
Causing damage with a melee reduces your grenade cooldown
Increased reload speed with Special Weapons
Knucklehead Radar
Class: Hunter
Type: Helmet
Defense: +407 / 447
Light: +30 / 36
Strength: +97 / 104
Grenade hits restore melee energy
More Super energy from non-Guardian kills
Radar remains visible while aiming Primary Weapons
Claws of Ahamkara
Class: Warlock
Type: Gauntlets
Defense: 333 / 366
Light: +30 / 36
Discipline: +56 / 60
Strength: +58 / 63
Gain an additional charge for Scorch and Energy Drain
Increased reload speed with Special Weapons
Increases melee attack speed
Patience and Time
Class: All
Type: Sniper Rifle
Attack: 302 / 331
Magazine: 4
You gain active camouflage while aiming down the sights
Radar stays active while aiming down this weapon's sights
Exotic Engram
Exotic Shard
Below are the exotic items in Xur's inventory that can be upgraded:
Crest of Alpha Lupi
Class: Hunter
Type: Chest
Defense: 444 / 488
Light: + 30 / 36
Strength: +152 / 164
Revive teammates faster. Spawn more orbs.
Carry more ammo for Special Weapons
Carry more ammo for Hand Cannon
Lucky Raspberry
Class: Hunter
Type: Chest
Defense: 444 / 488
Light: + 30 / 36
Intellect: + 116 / 124
Arcbolt Grenade chains further. Spawn with grenade energy.
Carry more ammo for Heavy Weapons
Carry more ammo for Fusion Rifles
Crest of Alpha Lupi
Class: Hunter
Type: Chest
Defense: 444 / 488
Light: + 30 / 36
Intellect: + 134 / 144
Revive teammates faster. Spawn more orbs.
Carry more ammo for Special Weapons
Carry more ammo for Auto Rifles
No Backup Plans
Class: Titan
Type: Gauntlets
Defense: 333 / 366
Light: +30 / 36
Strength: +105 / 113
Increases the duration of Force Barrier
Increased melee attack speed
Increased reload speed with Special Weapons
Heart of the Praxic Fire
Class: Warlock
Type: Chest
Defense: 444 / 488
Light: + 30 / 36
Discipline: + 129 / 139
Further decreases all ability cooldowns while Radiance is active
Carry more ammo for Fusion Rifles
Carry more ammo for Heavy Weapons
Sunbreakers
Class: Warlock
Type: Gauntlets
Defense: 333 / 366
Light: + 30 / 36
Intellect: + 92 / 99
Increases the duration of your Solar Grenade
Increased reload speed with Special Weapons
Melee hits replenish Grenade energy
Mida Multi-Tool
Class: All
Type: Scout Rifle
Attack: 302 / 331
Magazine: 21
This weapon boost move speed and fires on a hair trigger
Radar stays active whil aiming down this weapon's sights
Thorn
Class: All
Type: Hand Cannon
Attack: 302 / 331
Magazine: 9
Rounds pierce targets and cause lingering damage over time
The last round in a magazine deals bonus damage
Universal Remote
Class: All
Type: Shotgun (Primary)
Attack: 302 / 331
Magazine: 5
Range and precision damage increases greatly while aiming down the sights
Kills with this weapon grant bonus damage for a short time
Plan C
Class: All
Type: Fusion Rifle
Attack: 302 / 331
Magazine: 5
Charge and equip times are very shot immediately after weapon swap
This weapon has bonus accuracy while firing from the hip
Super Good Advice
Class: All
Type: Machine Gun
Attack: 302 / 331
Magazine: 58
Almost all shots that miss their target will return to your magazine
Kills with this weapon grant bonus damage for a short time
Truth
Class: All
Type: Rocket Launcher
Attack: 302 / 331
Magazine: 2
Rounds fired from this weapon seek their targets aggressively
Rockets from this weapon will detonate early based on proximity to targets
Monte Carlo
Class: All
Type: Auto Rifle
Attack: 302 / 331
Magazine: 36
Dealing damage with this weapon reduces your melee cooldown and grants a chance to fully charge your melee ability with each kill.
This weapon has bonus accuracy while firing from the hip
[Source: iDigitalTimes]
Hot Fix Released
Bungie released on 16 December a Hot Fix that followed the new expansion, The Dark Below and it corrects all the issues that have been affected due to it. Below are the patch notes of the fix (Bungie):
General
Fixed a typo in the German word for 'Radiant Energy'
Weapons
General

Fixed an issue in which some weapon projectiles were improperly penetrating Hive shields

Pocket Infinity

Rolled back changes induced by a previous Exotic weapon update
Charge up and deactivation now work as originally designed
Players may again encounter a previously known issue which prevents charge up
Gear
Both existing and future Raid gear obtained in Crota's End now begins at Level 30 with an upgrade path to reach Level 32
Raid helmet obtained in Crota's End now drops on Normal Mode and will be a more frequent drop on Hard Mode
Fixed an issue in which Dead Orbit Hunter cloaks awarded reputation gains for both Dead Orbit and Vanguard/Crucible
Activities
Added a replayable node to the Director for the 'Fist of Crota' mission