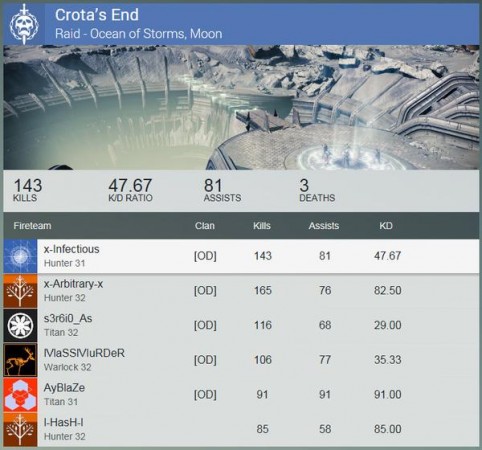 If you find Destiny and its raids a bit tough for your liking, it's not really a crime. Take for instance, the recently released Crota's End raid in hard mode. Even if it may not be that challenging, it still isn't really a stroll in the park. But, as it seems, a few Destiny diehards have finally beaten the game and that too in record time.
It took just 27 minutes to get the better of Crota's End in hard mode the first time ever. The clan involved, One and Done, took less than half an hour to claim the tag, and all of that even with the changes made to the game and the level 33 enemies. Talk about willpower!
If you know the game thoroughly by now, you shouldn't be an alien to the fact that Destiny's current level cap is stuck at 32. That means when you are on the hard mode, you start the game with a distinct disadvantage working against your throughout.
Even though level 32 is the business end of the game (where pros dwell), playing the game against enemies who are a level up than the norm can be quite the challenge. The level 33 enemies are ever-powerful and as potent as you might expect them to be. And to beat such a challenge in its own backyard is worth a shout-out.
"Bungie User Research has confirmed the World First finishers for the Hard Mode version of Crota's End. One and Done," the official tweet from the company stated. The tweet was also accompanied by the stats that were churned out with the victory. Clan One and Done boasts 143 Kills, 47.67 K/D Ratio, 81 Assists and just three deaths.
While Crota's End was released quite some time back, a more enhanced remix of the (standard version) game was released alongside the Dark Below expansion back in December. And just so you know, the remix's hard mode scraps the healing Chalice of Light item from the final boss fight, making the deal times greater than it actually is.
The hard mode also includes the Crux of Crota item, which is needed to upgrade Eidolon Ally (formerly known as Husk of the Pit) to a more powerful one in the form of the Necrochasm auto rifle. While the activity, itself, rewards players with exclusive loot that's not to be found anywhere else in the game.