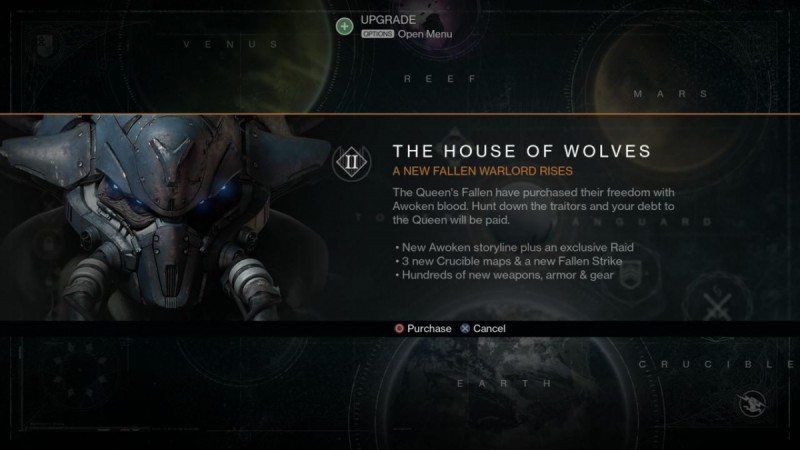 Destiny is less of a game and more of a spectacle, if you ask the millions of gamers hooked on to their consoles every day. Even though the game started off with some rather unwanted criticism, it has been able to silence critics and raging on with new additions, updates and expansions.
Apart from introducing loot based stats, grinding, and exclusive content, such as the raids, Destiny was also a major hit owing to its end game raid – the Vault of Glass and the previously released The Dark Below, the game's first-ever expansion. And now, all eyes are focused on the upcoming House of Wolves expansion.
But while you may think Destiny's forte lies in its end game raids and that Bungie will be looking to build upon it in the next expansion, it seems like that's not the case. Rather, as revealed by the company, the upcoming expansion House of Wolves will have no new raid for players.
"House of Wolves will not have a Raid activity," Bungie says. "We didn't make this decision lightly. Our team has been humbled by the reception of Raids in Destiny and we are creating a new Raid for a release later this year."
However, the company added that House of Wolves will come with "a new cooperative end game activity focused on variety, replayability, and skill – a new battle Arena called The Prison of Elders."
While scrapping any new raid from the upcoming House of Wolves expansion is quite a decision, after it was hailed by fans, it is to be seen how players will react to the decision. After all, the new decision doesn't really fall into place with Bungie's previous promise of delivering an expansion that would reflect the overall player sentiment.
Nonetheless, delving deeper into the House of Wolves expansion, Bungie has revealed more essential details about it that points to new weapons and gear. As revealed, the expansion will introduce new story missions that will see the Guardians joining the Queen of the Reef to hunt down the Fallen traitors.
According to the expansion's official description, not only will fans be treated to new story missions, but there will also be "three new competitive multiplayer maps, and a new cooperative Strike." And as mentioned earlier, players are also set for "a new competitive elimination mode in the Crucible and an all-new arena activity – The Prison of Elders."
Destiny's House of Wolves expansion will be out on 19 May for Xbox 360, Xbox One, PS3 and PS4.