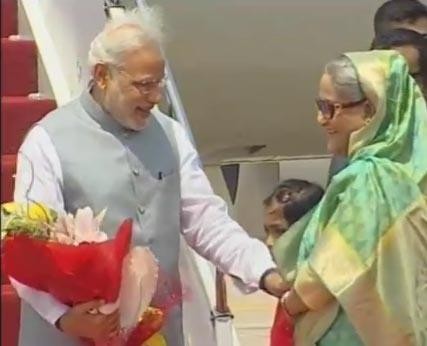 Prime Minister Narendra Modi, who was in Bangladesh over the weekend, praised his Bangladeshi counterpart Sheikh Hasina for her government's zero-tolerance approach towards terrorism in the country.
However, Modi's choice of words may not have been appropriate, as he marred his praise with a sexist "despite being a woman" remark.
"It is heartening that Prime Minister of Bangladesh despite the fact that she is a woman is openly saying that she has zero tolerance for terrorism. I would like to congratulate Sheikh Hasina for her firmness to deal with the menace," Modi said in Hindi in his speech at the Dhaka University on Sunday.
Read Modi's speech here.
Twitterati were quick to notice the remark, and #DespiteBeingAWoman soon became the top trending topic on Twitter in India, with many calling Modi 'sexist' for the statement.
Here are some Twitter reactions:
#DespiteBeingAWoman debate veering twds platitudes. It's less abt what women can/cannot do, more abt disgusting patriarchal/sexist mindset +

— smruti (@urjourno) June 8, 2015
#DespiteBeingAWoman she did not fight for her rights as his legally wedded wife nor for the respect accorded to a PM's wife in 7 RCR. — Rana Ayyub (@RanaAyyub) June 8, 2015
At core, RSS/BJP are misogynistic, bigoted, chauvinistic and sexist. Narendra Modi is just another manifestation of it. #DespiteBeingAWoman

— Sanjay Jha (@JhaSanjay) June 8, 2015
Will keep reminding our Prime Minister that thr is a lot women hv achieved in all spheres of life despite the misogyny #DespiteBeingAWoman — Priyanka Chaturvedi (@priyankac19) June 8, 2015
#DespiteBeingAWoman she can raise kids, wash dishes, run marathons, her bank accounts, fathom spreadsheets & change bedsheets.

— ऋचा (@NoSylviaPlath) June 8, 2015
For those wondering if Modi was misquoted, here's the relevant bit from official PMO transcript. #DespiteBeingAWoman pic.twitter.com/KqtWAi2n21 — Mihir Sharma (@mihirssharma) June 8, 2015