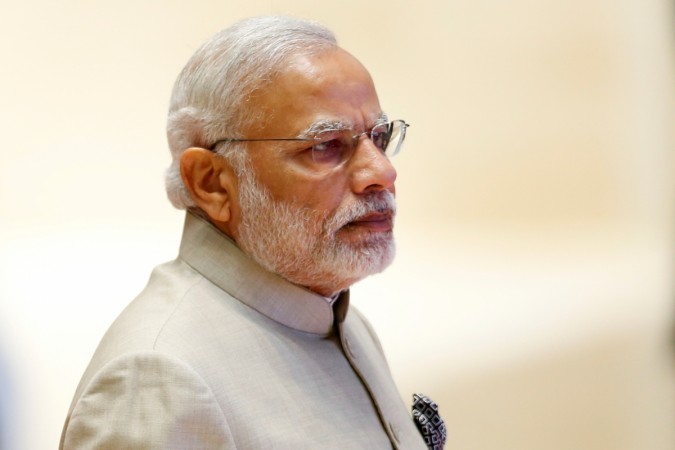 Prime Minister Narendra Modi's warning to his ministers and party leaders to refrain from chest-thumping and speaking out of turn about the Indian Army's surgical strikes in Pakistan-occupied-Kashmir seems to have fallen on deaf ears, as posters, banners and large hoardings in Uttar Pradesh are praising and crediting the BJP-led Central government for the strikes.
The warning has also not sufficiently deterred Uttar Pradesh BJP's plan to honour Defence Minister Manohar Parrikar on Thursday. Parrikar has described Pakistan's denial of the strikes as similar to an anaesthetised patient after a surgery who is unaware of the surgery and also compared the Indian Army to Lord Hanuman of the Ramayana.
A large hoarding at the BJP office in Lucknow that features the PM and the defence minister, "salutes" the Army "for carrying out surgical strikes targeting terror camps." Some of the other posters in the state are even more direct in expressing their gratitude to the BJP for conducting the strikes.
India's largest state is expected to go to the polls early next year.
The posters
Among several other hoardings, one features a life-size portrait of PM Modi along with smaller pictures of BJP national president Amit Shah and local BJP Leaders. The banner also has pictures of Union Agriculture Minister for State (Independent Charge) and the local MP Sanjeev Baliyan, party president of its UP unit, KP Maurya, and party MLA from Muzaffarnagar Kapil Aggarwal.
"We will kill you and kill you for sure but with our gun, our bullet, at our time of convenience but at your place," says the posters.
In Varanasi, PM Modi's parliamentary constituency, BJP ally Shiv Sena has put up posters that feature PM Modi as Lord Rama and Pakistani PM Nawaz Sharif as the 10-headed demon king Ravana. "Another surgical strike is needed," the posters say.
In yet another poster, Modi is portrayed as Lord Rama, Nawaz Sharif as Ravana and Delhi Chief Minister Arvind Kejriwal as Meghanad (son of Ravana).
Reaction
Many political leaders belonging to opposition parties strongly objected to the posters and took to twitter to criticise the BJP:
And some people will lecture others about politicising the army action all the while turning a blind eye to hoardings like these that sprout pic.twitter.com/i1hdMC9MDx

— Omar Abdullah (@abdullah_omar) October 4, 2016
When confronted, the local unit of the party disowned the banners and said that they were put up by "enthusiastic party workers" in Muzaffarnagar.
"As far as I know, we have not put up the posters. It seems that these are the doings of the patriotic and enthusiastic party workers," Virendar Singh, a close aide to Sanjeev Baliyan and a senior party leader in the western UP was quoted saying to the Hindu.
"We need to accept that there is general happiness among people over the way Modi government gave a befitting reply to Pakistan. Nobody wants to do politics over this issue but how could we stop people from expressing their gratitude to Prime Minister Modi and our brave soldiers," added Singh, who is also in the race to contest the coming assembly polls on the BJP ticket from Mirapur.