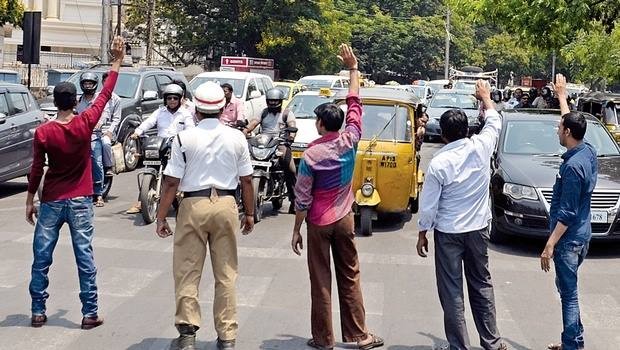 Delhi Police came up with an innovative idea of Traffic Sentinel Mobile App to manage traffic with the help of the general public. The app is an upgradation of Traffic Sentinel Scheme (TMS), which was launched on December 3, 2015.
It was an attempt to inculcate a habit of traffic discipline among citizens of Delhi. The app also allows a person to post a photo or video of a vehicle violating traffic norms on Delhi roads.
Interestingly, on every photo or video, predefined reward points are credited in the account of traffic sentinel. Notably, these points could be used to buy a t-shirt, dinner coupons, free talk time or Honda motorcycle.
Kargil War veteran's crusade was rewarded with a car in 2016 under the Delhi Police's Traffic Sentinel Scheme. In May, Delhi Police had also installed over 300 traffic sentinels to help around 5,000 traffic police officers.
These sentinels were given uniforms and identity cards under the community engagement programme so that the motorists can identify them easily and follow traffic rules and their directions in a disciplined manner.
A 72-year-old man was inducted as traffic sentinel by the police after he lost his son in a road accident who was the sole breadwinner of the family.
On the occasion of National Road Safety Week-2018, the traffic police also awarded frequent users of the app who had scored the highest points by posting videos and photographs of the traffic violation on the app. Yogesh Dhawan and SC Kakkar were felicitated with Hero motorcycle and Hero scooter respectively.
Reviews on the functioning of app
On social media platforms, citizens have complained about several issues that they faced while uploading photos and videos on the app. Several app users claimed that despite registration of several complaints, no action has been taken by Delhi Police so far.
On the app's review section, Rahul Singla left a message saying, "Pathetic response from DTP. Registered multiple complaints against parking on foothpath. Same vehicles are still parked on same spot after 15-20 days of complaints being registered. They are not taking action against any complaint being sent to them via this application."
Pardeep Sehrawat, who found a technical glitch in the functioning of the app, said, "Good idea by Delhi traffic police but it is impossible to report offences because we cannot post pictures/videos from phone gallery."
Swati Aiyer wrote that idea is brilliant but it still needs work with the OTP and 'reference mobile number' because it always says 'reference number does not exist'.
Social media users have also asked Delhi Police to rework on the app.
@dtptraffic your traffic sentinel app is clumsy and asks too much details. By the time traffic offender drives away. A quick photo with time and gps location should suffice reporting. Please modify it if u want citizen participation pic.twitter.com/qRinDhpCzP — Sumitd (@sumitdhillon) March 1, 2018
Allow pictures clicked earlier/from Gallery in Traffic Sentinel App to make it more effective and not just namesake. @dtptraffic @DelhiPolice @LtGovDelhi — Pulkit Bhatnagar (@Pulkit_Talks) June 3, 2018
With a rising number of complaints, it seems Delhi Police need to work on the app to empower the general public in a true sense. However, a recent Delhi Police report claimed that around 12, 276 sentinels assisted the police on 1,31,467 traffic rules violation cases through the app.