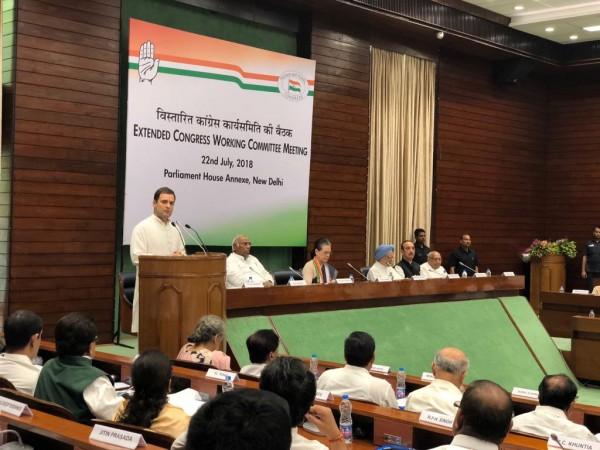 With an eye on the 2019 general elections, Congress has reached out to allies hoping to field a non-Congress Prime Minister in 2019 to stop the Narendra Modi wave from taking over the nation again.
The decision is a sharp U-turn from the party's usual stance of pitching Rahul Gandhi, something it made very clear before the CWC meet. However, following the meeting, it has become clear that Rahul Gandhi stands little chance of overpowering PM Modi.
Sources from Congress confirmed that the party was open to supporting any candidate from its allies, with a close eye on BSP supremo Mayawati and TMC chief Mamta Banerjee.
The move is seen as a clear attempt by the party to pacify its allies, who for long have played second-fiddle on the national stage. The move is aimed at ensuring Modi fails to reach the magical 230 figure, which the party believes will be possible only if its regional roots are strong. For this, it has placed great emphasis on forcing an alliance in both Bihar and Uttar Pradesh.
However, the party has not ruled out Rahul's run for the top job, saying a decision would be finalised at a much later date. The party believes it is more important to have an "open-minded approach" with the sole focus being to oust the Modi government rather than squabble over the leadership in the opposition.
The move comes after RJD leader Tejashwi Yadav on Tuesday said that "Rahul Gandhi is not the only leader from the opposition in the race for the PM's post."
The BSP has made it clear that any alliance in the states of Rajasthan, Chattisgarh and Madhya Pradesh would be heavily dependent on the share of sheets, which will be a key factor for other parties as well. The TMC has so far chosen to remain silent on the matter.
Irrespective of the candidate, the Congress is confident of putting up a better show in 2019 as it feels several BJP allies would not be open to aligning with the NDA after PM Modi's "autocratic" style of functioning.