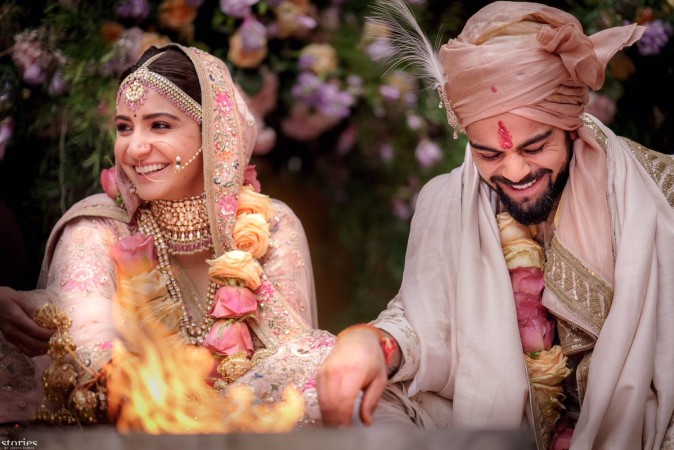 Designer Sabyasachi who grabbed headlines for Anushka Sharma and Virat Kohli's wedding said: "I got a lot of flak for Anushka's Delhi reception outfit because a lot of people said 'Iss main designer kya hai?' But the comments made me smile because that is exactly what we wanted to do, we wanted her to be accessible, we did not want her to sit in an ivory tower."
In an exclusive interview to Telegraph, Sabyasachi Mukherjee explained what went behind each and every outfit of Virat Kohli-Anushka Sharma's wedding.
Sabyasachi told the publication, "Anushka is a Pahari girl, and I think for her side of the family, culture, tradition are very, very important. She wanted to do the works, the jhumkas, the Nath and two dupattas, but she was getting married in Tuscany, so she wanted to be in sync with what the natural surroundings of Tuscany would be."
He added, "In Tuscany, you would be conspicuous if you were wearing a red lehenga, especially when there is no sun. I knew the wedding would be in winter and there would be little sunlight, so it would be best to keep the colours pale."
"Anushka is a very understated girl and she did not want the lehenga to be very heavy as she wanted to enjoy her own wedding, so she wanted to able to float around in the lehenga."
"For her Delhi reception, Anushka wanted to wear a sari and also sindoor. So I generally suggested to her if she would want to wear a red Benarasi. For me, it was a wish fulfilment, because I have seen every Bengali bride getting married in a red Benarasi. Also, a lot of north Indian girls, especially from Uttar Pradesh, they wear a lot of Benarasi saris. What I liked about her was, it was not an inaccessible piece... a lot of middle-class and upper-middle-class girls can also wear a Benarasi sari."
"What excited me about this is — this is how clothing should be. A lot of people want to go for things which are exclusive, but Anushka was very inclusive. She wanted to wear something that was part of her tradition and I did not give her something that was very designer. I gave her something very traditional and something that a lot of girls can go into the sari shops and buy for themselves," explained the designer.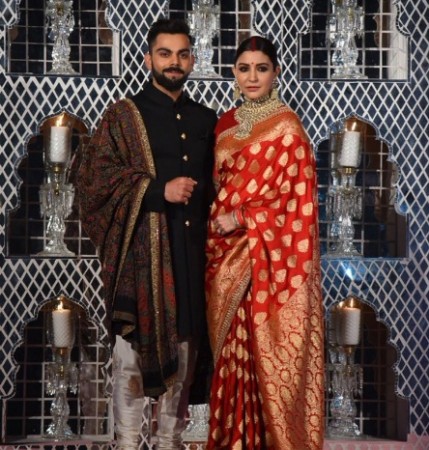 When questioned about which one of the wedding looks is closest to Sabya's heart he said it was the wedding ceremony. He liked the look the most because it made for beautiful pictures but from a socio-political point of view, it was the red Benarasi sari.
Coming to the mehendi, Sabyasachi said that Anushka wanted this desi boho look, "For the Mehendi, she had seen something from our campaign Big Love, where we had done striped blouses with floral lehngas. Here we did a floral blouse with a striped lehnga, we reversed the look for her. She wanted to wear something that was very simple, sporty and young. Her only demand was that she wanted to wear a very bright pink, so we did a pink-and-orange lehenga for her."
The couple also hosted a reception in Mumbai which was attended by the who's who of Bollywood and cricketers.
For the Mumbai reception, Anushka, once again, wore a Sabyasachi creation. The look this time around was a dull gold heavily embroidered and embellished lehenga set, which was teamed with a matching dupatta, cinched at the waist with a signature Sabyasachi belt. She styled her look with a diamond necklace and traditional red bangles.A nude lip and cascading curls rounded her look out.
Talking about the thought process behind this creation, Sabya said, "For her Bombay reception, she wanted to be glamorous, but again Anushka being Anushka, she wanted it understated. She wanted it elegant and quiet. So there was a lot of bling in it, but because the colour was almost like a mouse brown, almost like a vintage grey, it looked muted. And she wore solitaires with a diamond necklace; she didn't go all out and wear too much jewellery. She had open hair and she looked young and fresh. And I liked the fact that she held her own while many guests at her reception went over the top. I think when you decide to be yourself for your own wedding, that's a sign of modernity and class."
Sabyasachi didn't design Virat Kohli's Mumbai reception outfit. Sabyasachi posted on his Instagram handle claiming that Virat's outfit was designed by him but minutes later, Sabyasachi took down his Insta post and in fact credited Raghavendra Rathore for the groom's outfit. He said: "BTW @virat.kohli looks absolutely dapper in a @raghavendra.rathore.We had made a very similar piece and in the confusion of the great Indian wedding, the credits got swapped. Mr Mukherjee is personally a huge fan of the Rathore label and deeply regrets the error." [sic.]