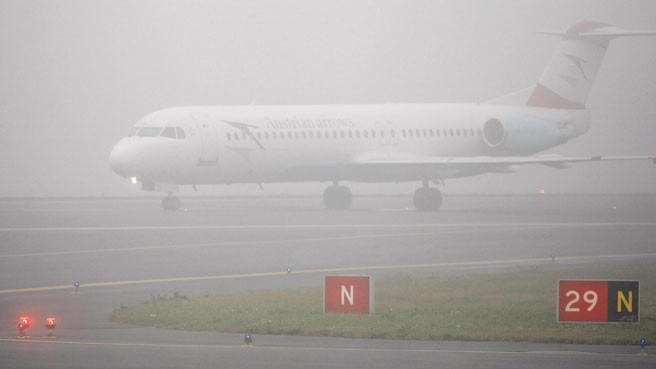 Dense fog caused delays and cancellations of flights and trains for the third day in Delhi on Wednesday.
Flight operations for 42 domestic routes and 13 international flights were delayed due to poor visibility, reported NDTV news channel. "Two Jet Airways flights to Delhi, 306 from Amritsar and 304 from Lucknow, are among the flights that have been cancelled," the report said
Schedule for at least eight other flights came to a standstill as they were cancelled, causing inconvenience to passengers.
Due to the thick fog, no take-offs or landing was permitted on the Delhi Indira Gandhi International Airport. Passengers, glued to flight information display system (FIDS) complained about incorrect information being dispatched by airlines' helpline about the flights, reported PTI.
Several trains were also delayed at the New Delhi Railway station on Wednesday as the city was engulfed in a dense fog.
According to the news channel about 27 trains were delayed for more than three-four hours at various railway stations in the national capital.
Flight operations have been stranded for five to three hours on a daily basis due to fog since Monday, even though the Met Department had assured earlier that it would not set in before Christmas.
On Monday, dense fog halted around 140 flights for two hours, which were delayed or diverted later. And on Tuesday, at least 19 domestic as well as international flights were cancelled and seven flights were diverted.