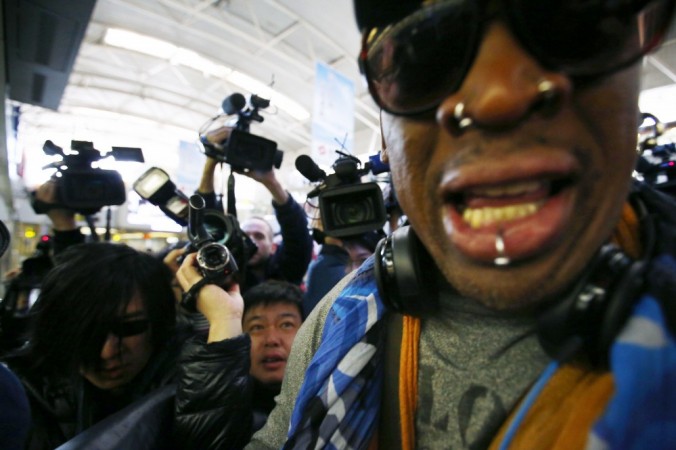 Returning from his controversial North Korea trip, an emotional Dennis Rodman apologized for not helping the imprisoned American missionary Kenneth Bae.
The former Chicago Bulls star was heavily criticized following outburst on CNN, where he indirectly suggested that Bae deserved to be in prison.
Upon his return from Kim Jong-un's birthday celebrations, where Rodman had even sung a Happy Birthday song for the North Korean leader, the former NBA superstar was confronted by an army of media and press reporters in Beijing.
Rodman was also accused of dancing to the tune of North Korean authorities during the trip, which featured an exhibition basketball match between some former NBA stars and the North Korea team, to mark Kim's birthday.
"I love my country, America, I love it and I will never trade it for nothing in the world," Rodman told local and international TV channels upon his arrival at the airport.
Rodman also expressed his helpless over not being able help the jailed Bae, who was sentenced to 15 years of imprisonment in April 2013 , for planning to overthrow the North Korean government.
"I am sorry. I am not the president. I am not an ambassador. I am Dennis Rodman. Just an individual, just showing the world the fact that we can actually get along and be happy for one day," Rodman told the media.
However, after making this statement Rodman got emotional and covered his face.
Rodman had developed a close relationship with the young North Korean leader since his first trip there in February, when he declared Kim a 'friend for life'.
There has been much hope riding on Rodman doing his part in releasing Bae, as the player had himself tweeted on 7 May 2013 that "I'm gonna try and get the guy out... It's gonna be difficult." On 10 May 10 2013, Rodman - in another tweet - lambasted US President Barack Obama, saying: "We got a black president [who] can't even go talk to [Jong-un] ... Obama can't do shit, I don't know why he won't go talk to him."
However, much to the disappointment of thousands of Americans, Rodman sang a different tune and in an interview with CNN earlier this week. "Kenneth Bae did one thing... Do you understand what Kenneth Bae did? Do you understand what he did in this country? No, no, no, you tell me, you tell me. Why is he held captive here in this country, why?... I would love to speak on this."
Now the former NBA player has now apologized. "I'm sorry I couldn't do anything," Rodman said on Monday.