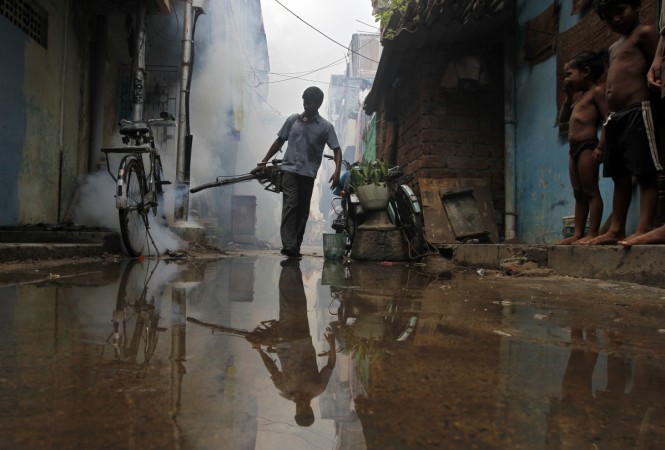 After Maharashtra, Karnataka and Delhi, dengue has engulfed West Bengal. Thirteen deaths have been reported so far due to the viral disease in the state this year.
The state health department said in a statement that two more fresh deaths were reported during the weekend, taking the death toll to 13.
A 10-year-old girl and a 42-year-old man are the latest victims of the dengue virus in West Bengal.
A total of 112 fresh dengue cases have been reported since Saturday. "The total number of dengue cases this year has gone up to 1,495," an official was quoted by the Indo-Asian News Service as saying.
In Delhi, an abrupt spike in dengue cases has alarmed authorities who have set up exclusive dengue clinics for diagnosis and treatment of the disease. In July, 62 cases were reported in the national capital.
The union health ministry has called for separate registration of dengue patients in Delhi and the National Capital Region, directing them to be admitted to separate wards in hospitals.
Dengue has raised alarm bells in other states of the country too. In Karnataka, the disease claimed six lives in the last 20 days. The total number of dengue cases in the state is 2,442 so far this year.
Maharashtra is also under the grip of dengue crisis, with the number of cases having increased by more than thrice this year. Nearly 14,203 cases of dengue have been reported so far this year, as compared to 442 cases last year in the state. Two persons have died of the disease in the state.
Dengue (Quick Facts):
According to the World Health Organization (WHO), dengue is a mosquito-borne viral infection, which causes flu-like illness, and rarely develops into a potentially lethal complication.
Dengue virus is transmitted by female mosquitoes, mainly of the species Aedes aegypti. This mosquito also transmits chikungunya, yellow fever and Zika infection. Dengue is widespread throughout the tropics.
The number of dengue cases has risen dramatically over the past decades. Nearly half of the world's population is now at risk.
Dengue is more prevalent in crowded urban and semi-urban areas with tropical and sub-tropical climates.
Although there is no specific treatment for dengue/ severe dengue, early detection and proper treatment significantly lowers chances of fatality due to the disease.
A vaccine for dengue licensed by regulatory authorities in several countries may help prevent dengue in people in the age group of 9-45 years living in high-risk areas.