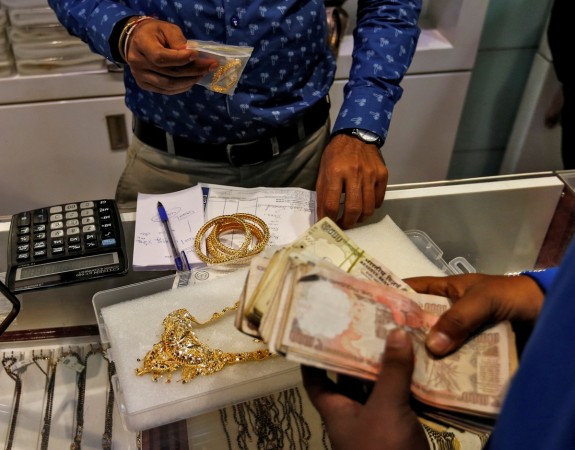 Demonetisation has slowly but surely started to show its consequences. Apart from people losing patience over exchanging their currencies, several small and medium scale businesses appear to have taken a major hit. However, it is jewellers dealing in gold buying/selling who have borne the brunt of Prime Minister Narendra Modi's surprising announcement on November 8.
International Business Times, India interacted with some of the jewellers about the impact of the demonetisation on their businesses. Two gold dealers we spoke with confirmed that the impact was significant, but also showed support to the initiative by saying it was a temporary setback.
"All gold transactions are now happening either through cheque, credit card or online. But the business has dropped by more than 70 percent," Sreedhar GV, chairman of All India Gems and Jewellery Trade Federation (GJF) and Managing Director of Sree Rama Jewels in Bengaluru, told IBTimes.
Speaking about the long-term impact due to the banning of Rs 500 and Rs. 1,000 notes, Sreedhar said that "gold is going to remain strong."
"This is definitely a hit to our business but we appreciate the move by the PM. The decision he has taken will have a significant impact on the gold sales in the long run. This will organise the order, provide safety for the customers and reduce hawala transactions, which will in turn condense terrorism. We look at this as a very positive move and we do not mind barring this little hitch for the betterment of our country's future."
On Friday, shares of Titan fell 4.18 percent to Rs 334 apiece, while PC Jeweller plunged 6.6 percent to Rs 412. Similarly, Tribhovandas Bhimji Zaveri (TBZ) dropped 5.89 percent to Rs 68 and Gitanjali Gems closed 6.6 percent lower at Rs 63.60.
"The sales of gold dropped more than 90 percent and most of the jewellery stores are closed because people don't have the money to buy jewellery," Bachhraj Bamalwa, partner in Nemichand Bamalwa & Sons, Kolkata's premium destination for diamond jewellers, and the former All India Gems and Jewellery Trade Federation, told IBTimes.
There were also rumours that shortly after PM Modi's announcement, a few people hoarding cash in black money tried to approach jewellers to buy gold and, for a while, some jewellers even charged as high as Rs. 65,000 per 10 gram of gold. However, these are just rumours and seem far from reality.
Meanwhile, I-T officials conducted raids to check any malpractices after the demonetisation move, following which jewellers immediately stopped selling gold at higher rates.