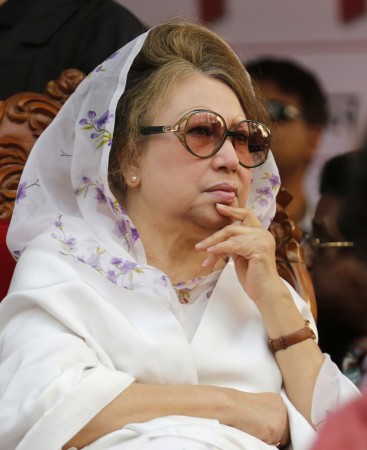 Two members of opposition Bangladesh Nationalist Party (BNP) have been reportedly shot down by two miscreants on a bike in Natore, northern Bangladesh on Monday, which is being observed by the BNP and its allies as "Democracy Killing Day" to protest last year's "rigged" elections.
Natore's Superintendent of Police Basudev Banik told BD News 24 that the duo, identified as 'Rana' and 'Rakib', were shot around 10.30am at the town's Tebarhia intersection. The deceased, believed to be in their 20s, were among the BNP activists gathered at the area to take out a procession to mark "Democracy Killing Day".
Their identity was also confirmed by the party's Natore district general secretary Aminul Haque.
Defying a ban, the BNP and its allies are holding protests to mark the first anniversary of the 5 January 2014 elections, which they were believe were "rigged" and therefore boycotted by them. The government had locked BNP chief Begum Khaleda Zia in her office on Sunday, anticipating trouble.
Bangladesh newspaper The Daily News quoted Zia's adviser Shawkat Mahmud as as saying: "We don't obey the government's ban on political activities ahead of tomorrow's programme in Dhaka. I'm calling upon you (rank and file) to remain on the streets to ensure our success".
In contradiction, ruling Awami League under Prime Minister Sheikh Hasina will be celebrating the day as "Victory Day of Democracy".
On 3 January, Bangladesh Food Minister and Awami League Dhaka unit Joint Secretary Qamrul Islam had warned the BNP-led alliance against taking their protest to the streets. During a meeting of the 14-party coalition led by AL at their central office at Bangabandhu Avenue, Qamrul said they would not allow anyone to take to the streets on 5 January and forbade BNP from trying to do so.
Not deterred by the ruling party's efforts to keep them off the streets, the 20-party men have parked at least ten sand-laden trucks in front of her Gulshan office, where Zia has been locked. They also confirmed that the scheduled programmes would take place, including a black flag rally in Dhaka, despite the ban.
Recent reports suggest that the BNP chief may be let out of her office , where she has been confined since Saturday night, around 2.00 pm (BDT).