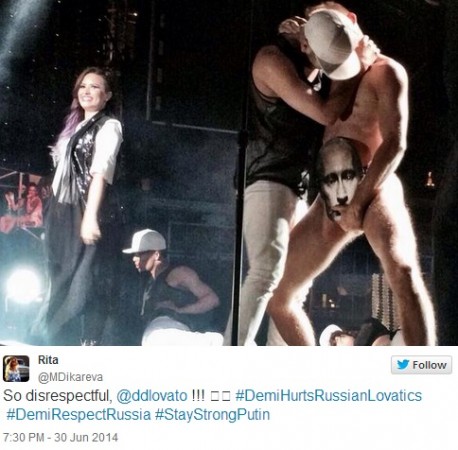 American singer Demi Lovato's seemingly deliberate attempt to take a gybe at Russian President Vladamir Putin on Russia's anti-gay laws has not gone down too well with the Eurasian's nation's audiences.
Russians are expressing their anger, especially over a picture in which Lovato, an outspoken supporter of LGBT rights, stands smiling as two of her male dancers share an onstage kiss. What seemed to aggrevate Russians most was the fact that one of the men was completely naked, except for a picture of the Russian president's face that covers his genitals.
So disrespectful, @ddlovato !!! #DemiHurtsRussianLovatics #DemiRespectRussia #StayStrongPutin pic.twitter.com/XQejCQVAoC

— Rita (@MDikareva) June 30, 2014
While the picture was a hit with the Gay Pride crowd, the image stirred up controversy amongst Lovato's Russian fans ('Lovatics', as they are known). Twitter began flooding with thousands of tweets with the hashtag #DemiHurtsRussianLovatics to express their anger over the incident.
Other hashtags such as #StayStrongPutin was also used to demonstrate support for the Russian President.
"I used to be neutral towards her, but now I'm totally disappointed," one user wrote in Russian.
Раньше я относилась к ней ну так, нейтрально. Но она меня окончательно разочаровала. И не одну меня. Путин няшка. #DemiHurtsRussianLovatics — Риша (@MargoshaaG) July 1, 2014
"Now I feel like our country is one big family! Putin unites people!" read another comment.
#Воватик #Вовофан #StayStrongPutin Вот! Вот сейчас я реально почувствовала, что наша страна-это одна большая семья Путин объединяет

— кожура Банана (@RusyRuslana) June 30, 2014
People also took to Russian social media website Vkontakte, where people have been discussing if Lovato should ever be allowed to be in Russia in the future.
"Because of this the fans have turned their backs on her and she will very likely be banned from entering our country," an individual named Anila Novikova said.
However, the Russian campaign to save their President's dignity was shortlived as many Americans started using the same hashtag to defend the singer's actions.
Here are few more reactions on the event from from both sides of the continent:
wow, some people are seriously trying to trend #DemiHurtsRussianLovatics , get a life, she just doesn't like your homophobic president

— demetria || 140 (@piinkvatto) June 30, 2014
ARE YOU HATING DEMI AND GIVE UP BEING HER LOVATIC BC SHE IS SUPPORTING GAYS?#DemiHurtsRussianLovatics

— Was @DeboralienElif (@DemiMusicLife) June 30, 2014
#DemiHurtsRussianLovatics #StayStrongPutin Probably it will be so more correct. pic.twitter.com/3xTuajFOlZ

— тифи (@prooophet) June 30, 2014
So damn disrespectful, Demi. @ddlovato #DemiHurtsRussianLovatics #DemiRespectRussia pic.twitter.com/awKjfB8cLp

— Nastasia (@NastyaNastasya) June 30, 2014
@ddlovato problem?#DemiRespectRussia #DemiHurtsRussianLovatics pic.twitter.com/y07VkENJ2H

— okay? okay.'4.09 (@natfure) June 30, 2014