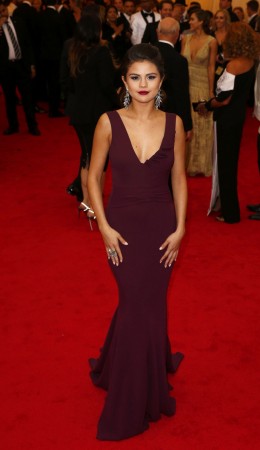 Demi Lovato has had a falling out with Selena Gomez, and the former indicated that all's not well between the two, when she unfollowed Gomez on Twitter and posted a cryptic angry message, apparently aimed at her former pal.
"Swimming away from the bullsh*t bye b*tch," Lovato allegedly wrote in a post, which has since been deleted.
However, Gomez still follows Lovato on Twitter.
The two have a long history of fighting, and in a 2013 interview, Lovato admitted that their relationship has not been an easy one. They first starred together in the seventh and eighth seasons of "Barney and Friends."
"We've been through a lot together, we've had periods of times we here we grew apart and we just didn't really talk. Now we are in a place where I think we realised that life is so short and that when you have people in your life that love you so much then, you should just always be around them.
"Everything about her, she has a great soul, she's talented, she's beautiful, and she will always be really, really close to my heart," she said at the time, according to Mail Online.
The current feud appears to be because of Gomez's refusal to deal with her alleged drug problem, a source told HollywoodLife. Reportedly, Gomez has a drinking and drug problem, and this was one of the reasons why she entered a rehabilitation facility earlier this year.
However, she did not complete the treatment, and left the facility just two weeks after checking in.
Lovato, too, has struggled with drug and alcohol addiction in the past.
"Demi tried to help Selena with her substance problems and also getting rid of Justin from her life and it is apparent Selena refused to listen to Demi's advice," a source told the site.
"Demi doesn't need any extra drama, she's learned from her own recovery to lose the people that bring her down and Selena is to much of a headache," the source said. "The unfollowing of Selena is sending a message that Demi is pissed. She is sick of Selena's boy-who-cried-wolf mentality."
Lovato appears to be in the midst of a lot of drama that is being played out in the online sphere.
On Friday, the hacked Twitter account of Lovato's boyfriend, Wilmer Valderrama, had several nude photos of the star, along with a cartoon that described the star as "fat as f***."