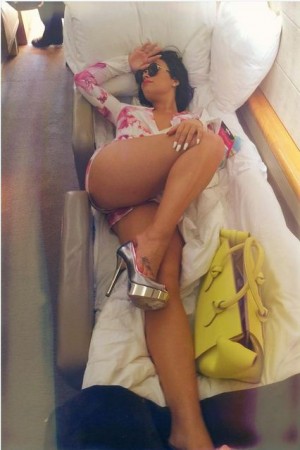 Everything online is better with a cat-fight; at least that is what the online community thinks. So when Ariana Grande was replaced by Demi Lovato to perform at the 2015 MLB All-Star Game concert on Saturday night, a few would obviously find a way to pit the two former child-stars-turned-singers against each other.
Days before Saturday, when Grande was scheduled to perform, TMZ leaked a video of the "Problem" singer at a Donut shop, licking the cream off of the a few of them on a bet. She clearly had no intention of buying them, and when an employee placed a fresh batch of donuts on the counter she asked "what the f**k is that?" before claiming she hates Americans and America.
Ariana Grande Calls Press Sexist, Explains 'I hate America' Video
Although Grande issued a public apology, her performance at the MLB All-Star Game concert was cancelled and both parties claimed that the reason for this was an emergency wisdom teeth removal. Soon after, Grande was replaced by Lovato, who performed her 2013 single "Made in the USA".
This got many thinking, as to why she would perform an old single and led many to assume that obviously it was a subtle blow at Grande. Moreover, she asked those attending the concert: "How many of you guys are proud to be an American?"
However, Lovato, not one for such trivial spats, tweeted, "Didn't get to sing Made in the USA on the 4th because I was singing #COOLFORTHESUMMER. No shade - stop the bullshit ✌️". She even tweeted out a quote of herself during the concert, where she told her fans, "I know it's a little late but I didn't get to sing this song on the fourth".
The "Cool for the Summer" singer also clarified, "I ALWAYS ask that when I sing that song. Can't yall let a girl shine for one night? Smh". Grande has made no comments regarding the matter, and is more or less MIA on Twitter and Instagram following the apologies after "I hate America" video went viral.
Lovato has not only been trying to bust open the stereotypes of celebrity cat fights, but also that of body image issues. She has always been vocal about her struggles with accepting her body and how her boyfriend Wilmer Valderrama aka Fez of "That 70s Show" helped her love her body.
In recent social media posts, she has been promoting her curvy body and asking her fans to be proud of their own bodies as well. In her most recent post, where she is sprawled out on a recliner, she commented, "Learn to lurrrrrvveee yerrrrr currrrrvveees I actually used to hate them... But then a special someone helped me learn how to love them... And he sure loves them.... ☺️". We can only assume that the "special someone" is Valderrama.
Related
Ariana Grande Calls Press Sexist, Explains 'I hate America' Video
Big Sean Not a Fan of Ex Ariana Grande's Donut Shop Behaviour; Video of Her Licking Donuts Goes Viral
Donutgate: Police Investigating Ariana Grande's Donut Licking Incident; Singer Apologises
Demi Lovato is 3-Years Sober; Check Out her Adorable Photos with Boyfriend Wilmer Valderrama
'I'm Engaged', Demi Lovato Reveals on 'The Ellen Show' [VIDEO]