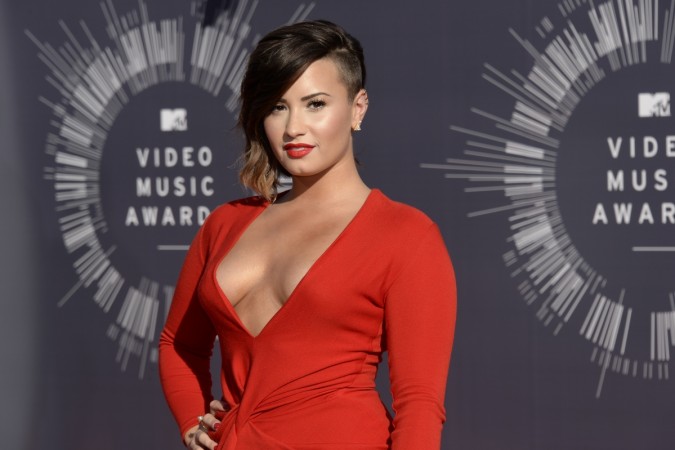 Demi Lovato was the victim of an embarrassing wardrobe malfunction on Tuesday night when she flashed more than she intended to while getting into a car.
The singer, who was wearing a tight short skirt, gave paparazzi a peek of her underwear while attempting to get into a car driven by longtime beau Wilmer Valderrama. The couple was heading back after attending Nick Jonas' album release part at The Ivy in Beverly Hills.
Lovato looked glam at the event, and she flaunted her healthier figure in a crop top that featured a sheer panel over the chest.
A few months back, the "Heart Attack" singer opened up about her aspirations to become a positive body image role model, crediting Kim Kardashian and Beyonce for promoting healthy body images.
"For so long it was the very skinny, frail model look, and that's what I grew up looking at. For me, I thought that's what you had to look like, so growing up thinking that and then seeing women like [Kim] and Beyonce," she told E!News.
"I mean, Kim, say what you want about her, but she's a very successful woman and she really kind of revolutionized what beauty was when she came on the scene. For me, I'm embracing that, and I want younger women to see that you don't have to be something that you're not."
In yet another interview she thanked her beau, Valderrama, for helping through her dark times,which included battling bulimia, self-harm, and addiction.
"It's been difficult. I almost went back to rehab for my eating disorder last summer. I was obsessing over food and terrified of it at the same time. Wilmer [Valderrama, her boyfriend] noticed and called me out on it, which was a relief. I was done being afraid of food and so tired of overeating and not knowing why I did it," she told Fitness Magazine.