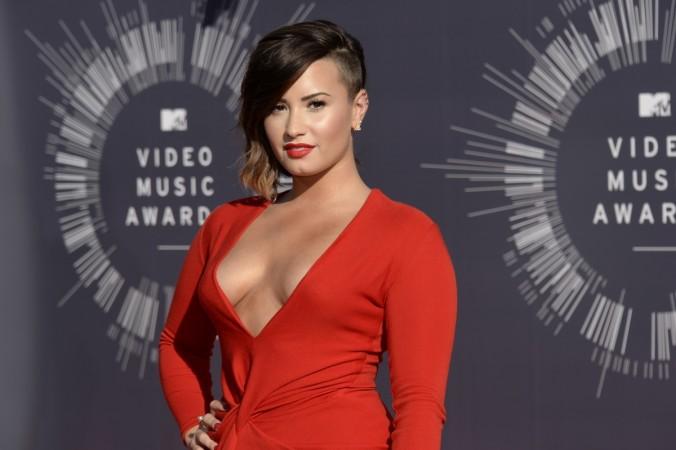 In a new behind-the-scenes video for a photoshoot with Allure magazine, 'Really don't care' singer Demi Lovato said that Kim Kardashian helped her accept her own curves because she showed there is nothing to be embarrassed about having great assets.
"Kim Kardashian, say whatever you want about her, but she has revolutionised what's accepted with curves nowadays," 22-year-old Lovato said.
The former Disney star has been very public about her struggles with bulimia and drug addiction, but is now beaming with confidence.
She rocks the January issue of Allure magazine in a black attire, looking as well as feeling very sexy. But revealing the source behind her newly-found confidence about her body she says: "What makes me feel sexy is being able to rock no makeup wherever I go, also, wearing pants or skirts that show off my beautiful assets. It's my butt. I love my butt. Hopefully it stays that way, because this isn't going anywhere."
She further said that she learnt to accept her body the way it is after the trend of skinny models was over and the world was more fascinated by voluptuous women.
In the photos that she clicked especially for Allure, we see the 'Glee' star rocking a bold undercut and teal blue locks.
According to Perez Hilton, Lovato further said: "I'm getting more confidence in my body. As I've gotten older, I'm fine showing my cleavage. And tight-fitting stuff is fine, but short shorts, short skirts, short dresses—nobody's ever comfortable in that. If you are, then you probably live on a beach, and all you wear is a bikini."
Earlier this month, the young singer confessed that she was about to go back to rehab due to to her eating disorder last summer.
"I acknowledge the past. Yes, it happened, but I've told this story a million and one times. It's time for a new chapter in my life," she told Allure, Star Pulse reports.