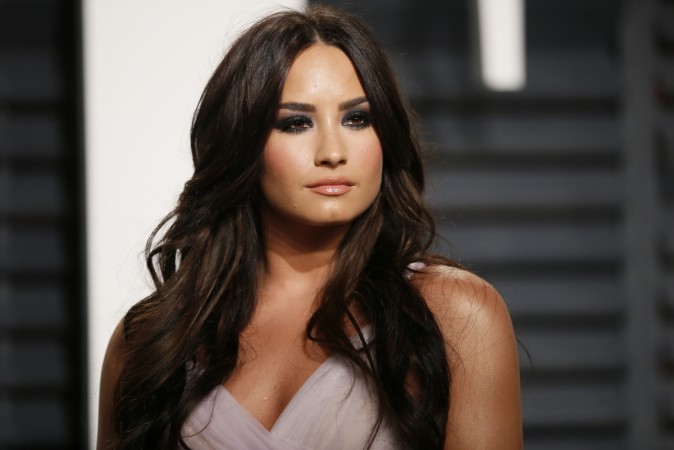 The winter chills seem not to bother Demi Lovato this Christmas. Instead, the singer brought some heat on to the cold December night when she posed in a plunging swimsuit to flash her assets.
Taking to Instagram to share a mirror selfie, the Cool for the Summer hitmaker gave fans an eyeful donning a black and white low-cut swimsuit with cherries printed on her attire to look supremely hot!
Also Read: Demi Lovato shares a wedding dress picture and fans think she is married to Nick Jonas
Tying her hair up in a bun, the songstress looked ready to jump into the pool any moment. In the sultry post, Demi is seen sporting big hooped earrings and berry coloured lipstick adorned her lips. Her fabulous bone structure was accentuated with the help of pink blush.
The steamy selfie put her cleavage and booty on display. While it becomes difficult to focus on anything else bit her sultry body, the photo also highlights her arm tattoos.
Apart from the raunchy post, Demi was actively sharing photos on Snapchat as well but this time covered her curvy body under a white t-shirt.
Fans thronged to the comments section to praise the singer. "Guurrrrl, u could be wearing a black plasticbag, and u would still look smokin'," wrote a follower. "I'm in love with the shape of you," added another.
The posts come a week after the 25-year-old teased her 63.9 million followers with another cleavage revealing photo. Donning a gorgeous black dress, Demi teased the camera with a seductive look while her raven locks slid down her shoulder.
A few days before Christmas, Demi also turned heads when she wore Denim chaps for a performance. In the bizarre outfit, which caught attention online, she looked like a cowgirl channelling her Texas roots.
Beneath the chaps, Demi sported a lacy bodysuit which highlighted her torso and bosoms. She has not been shy about experimenting with style and flaunting her body confidently through the year. And the post Christmas photo was just another example of the same.