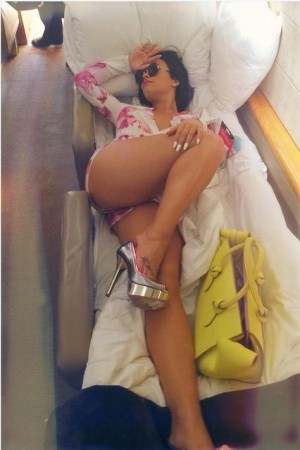 Singer Demi Lovato recently stripped down and appeared without make-up for a recent photo shoot by photographer Patrick Ecclesine, in an attempt to promote positive body issues through the raw images.
These untouched photos, which were taken at a hotel room in New York City, include one of the "Heart Attack" singer sitting on the ledge of a bathtub and another one of her cupping her bare breasts.
There are also photographs of her lying naked in bed. Click here to watch the photos.
Commenting on why she decided to do such a photo shoot, Lovato said she wanted to do this to show how much she loved her body.
"The reason why I decided to do this photo shoot is because when I think of confident I think of many things, but one thing in particular is feeling comfortable in your own skin," Lovato says in an accompanying video.
"I thought there was something incredible of the idea of no make-up whatsoever and no clothes and no retouching. I would have never thought that I would have ever got to a place in my life where I would have felt comfortable doing that."
Lovato has suffered from eating disorder in the past, and in a previous interview she said it stemmed from being bullied for being overweight. This affected her self-esteem and she later had to deal with depression and anxiety. However, she got help to deal with these issues, and Lovato has since learned to embrace her flaws.
"It's empowering and it shows other women that you can get to a place where you can overcome the obstacles of body image issues and you can feel comfortable and confident in your own skin," she says of the naked photo shoot. "In the past I suffered from eating disorders and I basically went from hating every single inch of my body to working on myself and trying to figure out ways to love myself."