Today's smartphones are smart enough to act like a mini personal computer, allowing you to perform a whole lot of different things ranging from sending emails to creating and editing office documents on the go. However, you are still forced to split your time between your phone and the PC as they are fundamentally different from each other, and don't really work well together most of the time.
At the ongoing Consumer Electronics Show (CES) in Las Vegas, Dell is trying to bridge the gap between the two devices with its new service called Dell Mobile Connect, which is aimed at seamlessly integrating the PC with the smartphone.
The software, which will come pre-installed in all of the company's new XPS, Inspiron, Alienware and Vostro laptops in 2018, is compatible with both Android devices and iPhones, but the functionality is limited for Apple phones.
When it comes to Android users, they can read and respond to texts, make calls and run apps using the software, which will also show notifications for other apps. Users must note that the software doesn't allow running an Android app on the PC, it lets them view and control an app, running on the Android phone, on the PC display.
For example, if you want to book a Uber cab, you can do it from your PC. You can also pause the notifications whenever you wish, or choose which specific apps you would like to receive notifications from on your PC.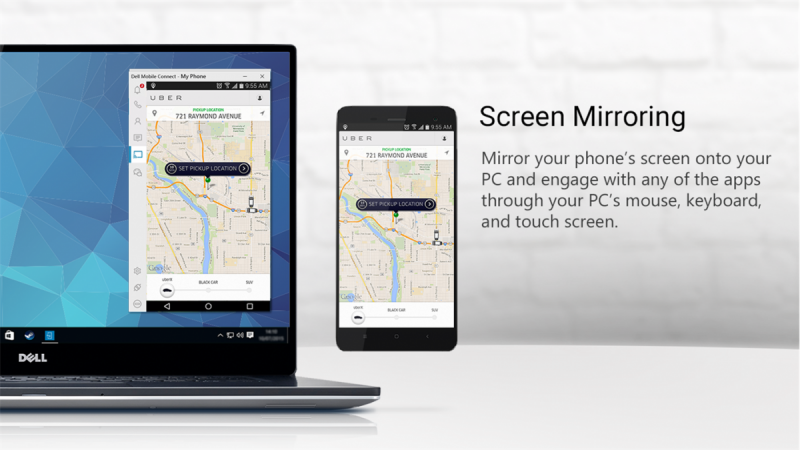 While iPhone users can't run full apps on the PC, they can read and respond to texts as well as make and receive calls. Dell, meanwhile, is expected to extend the iPhone compatibility by the end of the month.
Dell Mobile Connect uses Bluetooth and Wi-Fi to establish a point-to-point connection between the phone and the PC. Since the Internet is not involved, the system seems to be secure with users' phone data can only be accessed on a paired PC.
"Your connection is only accessible on the PC when you are present and the communication remains secure through a point-to-point connection, never going through the internet or Wi-Fi routers," Dell said on its website.
"When you're in a PC mode and you're working or learning or consuming content in that mode, Dell Mobile Connect keeps you in that frame instead of taking you out of it to switch back and forth to your phone. We think it's a very valuable solution for that reason," Frank Azor, Dell's general manager for XPS, Alienware and laptops, told VentureBeat.