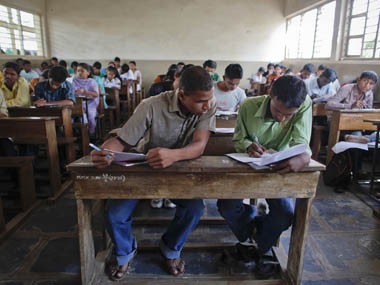 Admissions have kicked-off at Delhi University with the first cut-off lists being announced for various courses under the four-year undergraduate programme. This time again, the first cut-off list has touched the 100 percent mark, with Ram Lal Anand College getting the highest for its B.Tech (computer science) course.
Ram Lal College shows a steep rise in cut-off from 82 percent in 2011 and 91 percent in the following year.
This trend first began in 2011 when Shri Ram College of Commerce (SRCC) came out with a 100 percent cut-off for its B.Com (Hons) course. Kapil Sibal, the then HRD minister, intervened and asked the vice chancellor to look into the matter.
Last year, Hindu College was the one to beat with its high cut-offs ranging from 96.25 to 99.25 percent.
The commerce stream cut-offs for almost all colleges hit above 90 percent with Hansraj having a cut-off range at 96.75-98.75 percent, Lady Shri Ram College at 97.75-98.75 percent and Sri Venkateswara at 96.75 percent.
This year both the colleges - SRCC and Hindu, have capped their commerce stream cut-offs at 97 percent and 99.75 percent, respectively.
Hindu College has been increasing its mark by 0.25 percent over the past three years, and may be the one to beat Ram Lal College for its 100-percent mark in 2014. Even the English course cut-off at Hindu College has seen a steep rise. The undergraduate humanities programme was capped at 80.5 percent in 2011 and 98.5 percent this year in Hindu College.
Admissions for English and journalism courses also saw a high cut-off rate this year.
The journalism course hit 90 percent cut-off in all six colleges offering the course.
Commerce may still be the most popular course on offer, but the limelight was stolen by the rise in B.Tech cut-offs.
"I'd suggest that students choose course over college as it is the course that determines a child's future. Also my message to the students is that they should not give up hope," Hindu College principal Pradyuman Kumar told NDTV.
Popularity among Delhi University colleges remain high even when they are gunning for the first four-year structure. Students seem to forget that all top colleges of DU are gradually aiming for the 100 percent mark, as shown in the above infographic.