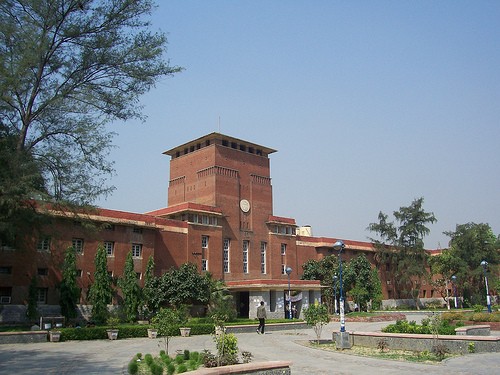 The number of students scoring 95 percent in the CBSE examinations this year has shot up by nearly 3,000, following which cut-offs are expected to rocket.
Long queues were seen on the opening day of admissions in Delhi University's four-year undergraduate programme (FYUP).
Experts forecast around two percent increase in cut-offs in science courses this year, while a 0.5 percent and two percent rise is likely to be seen in commerce and humanities courses respectively.
This year 2,975 students scored more than 95 percent, a figure which has been increasing more and more in the last four years . In Delhi itself, the number saw a hike from 1,523 last year to 2,423 this year. Sarthak Aggarwal who scored 99.6 percent incidentally hails from Delhi.
BM Gupta, advisor, computer unit, CBSE said: "All stream toppers are from the Delhi NCR region this year."
The unprecedented high-scoring might be one of the causes of renowned colleges using the 95 percent figure to decide their cut-offs.
"A hike in cut-offs is inevitable as children are getting more marks. I know it is stressful for aspirants and their parents but we have to keep in mind the competition and the limited number of seats" explained a principal of a top DU college.
Adding to the severe competition, the centralized forms have been a source of confusion. These forms cost ₹100 for general candidates and ₹50 for SC/ST and OBC candidates. They are available both online and at 18 centers across North Campus, South Campus and other DU colleges.
The centralized forms are now used by all colleges, except St. Stephen's and Jesus & Mary College, which have their own admission process.
The online forms, launched by the university in 2012, especially has come in for criticism and adding to the woes of the students.
"We are not comfortable with the online mode as it is new. It is better to come and do this ourselves," Priya Rani, a student explained.
The university's website crashing on Sunday night reaffirmed Rani's viewpoint that the online mode can do with some improvement. After Sunday night's crash, most students rushed to the admission centres to collect forms.
While high cutoffs and online forms might be taking on a toll on students, their woes do not end here. The university's decision to deduct two per cent from the overall score, should a student decide to switch streams while seeking admission to a course, could also act as a hindrance.
According to the university a student who has not studied a particular subject in Class XII, but wants to study it at the undergraduate level, is free to do so but will have to part with two percent from the aggregate of best four subjects.
Though students who had opted for one or more vocational subjects in Class XII have been provided with the option by DU to add the marks of these subjects in the best of four, they will incur a 10 percent deduction of the total aggregate of marks scored in each of the vocational subjects included in the best of four.
Amidst all the confusion and hassle, the National Students' Union of India (NSUI), the students' wing of Congress has demanded for better management of the admission process.
Protests seemed to be the order of the day and the Left-backed All India Students Association (AISA) also demanded the rollback of the controversial four-year undergraduate programme, which was introduced last year despite resistance from teachers, students and parents.
June 16 is the last day for forms to be filled and the first cut-off list will be put up on June 24.