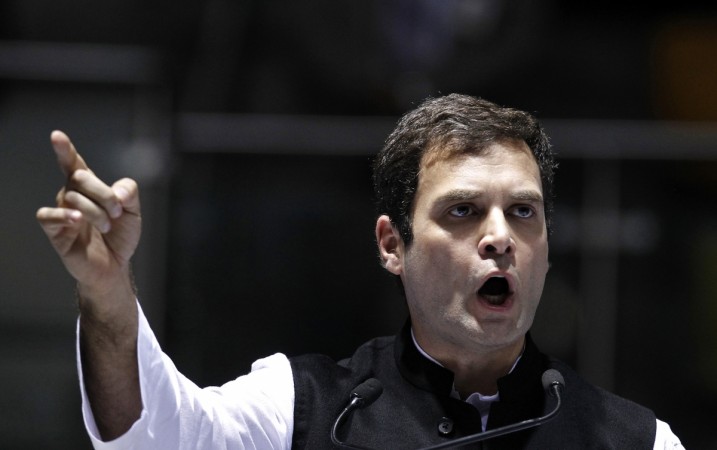 A little over a fortnight after Prime Minister Narendra Modi's Ramlila Maidan speech, where he used the word 'gareeb' more than 30 times, Congress vice-president Rahul Gandhi on Tuesday arrived in South Delhi's slum area and declared the party as one for the poor.
Taking a swipe at the Modi-led BJP government, Rahul said that only "three or four industrialists" benefitted from the current set up, while the poor and the needy were neglected. He also said, "Congress is a party for poor people. We will show them how to dream."
The Congress vice-president added that the party was fighting the 7 February Assembly Polls on three key agendas - "provision of electricity and water at the lowest possible rate, regularisation of temporary and contractual employees and extend right to shelter to the poor on the lines of MNREGA and RTI".
Transit Camp in Kalkaji was the venue for Rahul's first rally. Once a Congress stronghold, Kalkaji has one of the largest concentrations of slum dwellers, reports The Indian Express.
Reiterating Rahul Gandhi's view, Ajay Maken, the party's campaign committee chief and candidate from Sadar Bazaar said, "The Congress government began the first project of in-situ construction of flats to rehabilitate those living in JJ clusters. The party has always been with those living in such colonies."
Rahul was accompanied by Maken, Delhi Congress chief Arvinder Singh Lovely, local candidate Subhash Chopra and Greater Kailash candidate Sharmishta Mukherjee as he passed through the slum clusters near Kalkaji Extension and Govindpuri.
Continuing his attack on the Modi government, the Congress vice-president said, "The NDA has been in power at the Centre since May but the PM is busy with personal PR (public relations). Not a single concrete thing has been done. The public is asking when the talks will get over and real work begin."
Some of the Congress leaders however admitted that AAP was a force to reckon with in the upcoming elections.
"AAP was a debutant party but it successfully galvanised the minorities, the poor and those living in JJ clusters. Only the loyal Congress supporters voted for us and we were defeated," said a senior Congress leader.