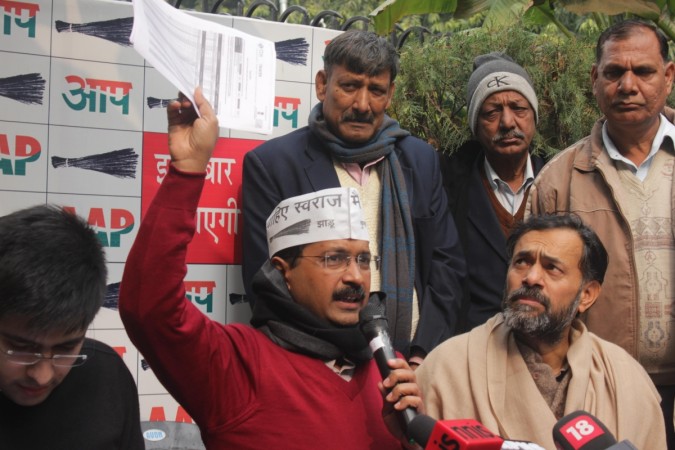 Arvind Kejriwal has declared on Twitter that a five-member delegation of Aam Aadmi Party will approach the Supreme Court on Tuesday requesting it to order investigation of the electoral funding of BJP, Congress and of its own.
"5 AAP leaders will go to SC today at 10.30 am to submit an application for an SIT probe into funding of BJP, Cong n AAP," Kejriwal tweeted in the morning.
The five party leaders who will be approaching the court seeking Special Investigation Team (SIT) probe into funding of the election campaigning for the upcoming assembly elections in Delhi are Ashutosh, Kumar Vishwas, Sanjay Singh, Ashish Khetan and Yogendra Yadav.
The AAP chief took the decision in the wake of allegations by AAP rebels, who claim that the party accepted donations worth ₹50 lakh each from four different companies on the same day and at the same time, according to IBNLive.
AAP Volunteer Action Manch claimed that AAP had made fake entries in the account books to evade taxes and spoke about receiving only ₹55 lakh on the party website. It also claimed that the addresses of the companies who donated the bulk amount were fake.
AAP has refuted the allegations, saying it took donations in cash and cannot vouch for the donor companies. Yadav said that his party is ready to face any action if proven guilty.
"AAP demands constitution of an SIT to probe funding of all three main political parties. The SIT should be monitored by the Supreme Court as we already know how the government can manipulate a probe," Yadav said while asking the other two major parties to open their funding policy for scrutiny.
Ashutosh on Tuesday tweeted saying, "AAP will write letters to BJP and Congress presidents requesting to cooperate in SIT probe about their fundings for clean politics".