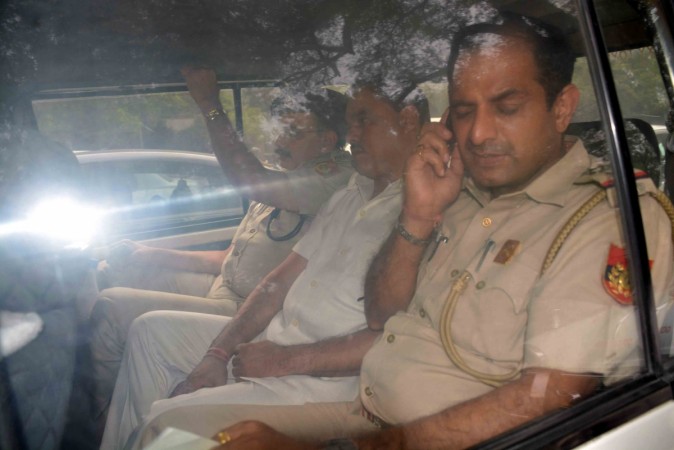 Former Delhi law minister Jitender Singh Tomar, who was forced to quit from his post on Tuesday after the Delhi police arrested him for submitting fake academic degrees, was taken to Uttar Pradesh's Faizabad's district on Wednesday for spot questioning.
Tomar had claimed to have done graduation in science from Faizabad's RML Avadh University.
"Our team has just reached Faizabad. There our Investigating Officer will take help of Mr Tomar in gathering evidence from there and whatever on-spot verification will be needed will be done," PTI quoted Delhi Police Commissioner BS Bassi as saying on Wednesday.
The media in-charge SN Shukla of Awadh University declared that Tomar's BSc marksheet and degree are fake. Shukla said that Pradeep Kumar from Ghaziabad had sought information of Tomar's degrees and mark sheets by filing an RTI request, ANI reports.
Delhi Police spokesperson Rajan Bhagat said that controller of examination of Awadh University told them that no graduation certificates in the name of Tomar has been issued by the university.
However, Tomar continues to maintain that his certificate is 'genuine', according to The Indian Express.
The arrest of Tomar was the outcome of a meticulous, month-long probe, according to the Delhi police. The probe was initiated on the basis of a complaint on 11 May by the Bar Council of Delhi, which had said that Tomar submitted fake law degree for registration.
The AAP MLA is in for more trouble, as a migration certificate produced by him has also turned to be a 'forged' one.
The 49-year-old AAP MLA cried foul on the whole saga. "I have done no wrong and am a victim of a political conspiracy," IANS quoted him as saying.
Following the alleged forgery by Tomar, Delhi Police are now probing the possibility of an organised racket running the certificate and degree forgery on high scale.