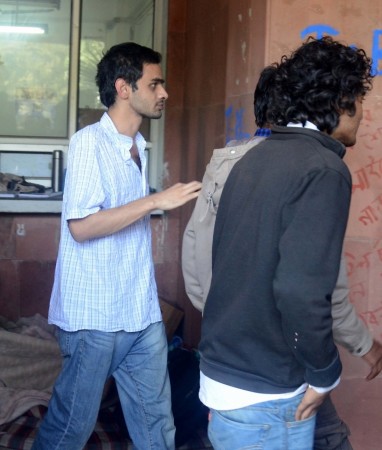 The Delhi Police have reportedly identified at least 22 people who were among the group believed to have been involved in anti-India sloganeering at an event organised Feb. 9 in Jawahalal Nehru University (JNU). The police ascertained their identity during joint interrogation of JNU students Kanhaiya Kumar, Umar Khalid and Anirban Bhattacharya.
"We have ascertained the identities of around 22 people who were present in the crowd raising seditious slogans. We are likely to question them in the coming days," Press Trust of India quoted a police source as saying.
The police are yet to verify the details of these people, many of whom are suspected to be outsiders. They are also trying to identify four people who had partially covered their faces with scarves. They are believed to have shouted anti-India slogans.
The Delhi Police arrested Kumae from campus Feb. 12 on charges of sedition and criminal conspiracy, while Khalid and Bhattacharya surrendered earlier this week. Khalid and Bhattacharya, who faces similar charges, had disappeared from the campus after Kumar's arrest.
The police started the investigation after a case was registered based on video footage provided by a news channel. Other evidence the police are using for the investigation include letters shared between the police and the JNU administration, and the event's poster.
According to the PTI source, the poster will be sent to a forensic laboratory, and the publisher and distributor of the poster will be treated as the "main organisers" of the event.