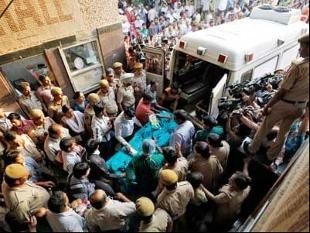 Police on Saturday arrested a 25-year-old man from Bihar who was accused of brutally assaulting a five-year-old minor in Delhi.
The accused, identified as Manoj Kumar, was nabbed from his in-laws house in Chiknouta in Bihar in the wee hours of Saturday.
Kumar, originally from Bihar's Bharphua village, works as a labourer in Delhi and was recently married.
Police nabbed Kumar by tracking his mobile phone signals.
The accused boarded a train to Bihar on Friday.
Kumar has been booked under the sections of attempt to murder, rape, kidnapping and also under the Protection of Children from Sexual Offences (POSCO) Act, 2012.
Kumar abducted the minor on 15 April and viciously raped her mutilating her genitals. On 17 April, neighbours discovered the girl after hearing her cries from the ground floor of the building where Kumar lived. Kumar had already fled the scene by then.
Meanwhile, the minor, who was shifted to AIIMS and operated upon, is said to be in a stable condition, according to CNN-IBN.
Doctors said the girl was conscious and stable but the next 24 hours would be crucial for her.
In another report, the victim's parents alleged that the police tried to hush up the matter and even tried to bribe the parents with Rs 2,000.
Meanwhile, protestors gathered in the capital in support of the victim and decried the inhuman incident.
Television channels recorded one woman protestor being slapped and pushed by a senior official while she and others were staging a demonstration.
The official has reportedly been suspended.