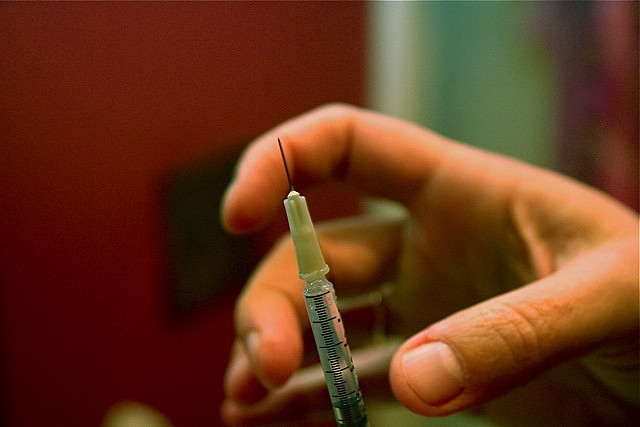 Delhi has become the first state in India to launch the Human Papillomavirus (HPV) – a common sexually transmitted infection, which causes cervical cancer – vaccination programme in schools to protect teenage girls against cervical cancer.
In India, 1,22,844 women are diagnosed with cervical cancer and 67,477 die from the disease every year, according to the HPV India Report 2015 (HPV R-2015). Cervical cancer ranks as the second most common cancer among women between 15 and 44 years of age, the report said.
Delhi Health Minister Satyendra Jain launched the vaccination programme on the inaugural day of the International Workshop for Cancer Awareness, Monday, in Delhi.
The HPV vaccination programme will target girls between the age of 9 and 13 next year. "This year we are focused on vaccinating girls Class VI girl students .The programme will start in next three to four months," the Indian Express quoted Jain as saying.
He said 1-1.5 lakh school girls will be targeted in the first phase of the vaccination programme. "We are targeting the government schools as of now . We will expand our initiative and target the private schools as well," the minister added.
The central government is also planning to include HPV vaccine in its mass immunisation programme, the Indian Express reports.
India has a population of 436.76 million women aged 15 years and older who are at the risk of developing cervical cancer, as per HPV, India Report.
The HPV vaccination programme has been a success in the United States, where the infection has been reduced by 64 percent.
"We're seeing the impact of the vaccine as it marches down the line for age groups, and that is incredibly exciting. A minority of females in this country has been immunized, but we're seeing a public health impact that is quite expansive." Amy B. Middleman, chief of adolescent medicine at the University of Oklahoma Health Sciences Centre, said, according to the New York Times.
What is HPV?
HPV is the most common sexually transmitted infection (STI), which can cause genital warts and cancers.
HPV can be avoided through vaccines that are safe and effective. HPV vaccines are given in three shots over six months and it is important to get all the three doses. Routine screening for women aged between 21 and 65 years old can prevent cervical cancer, according to a guideline by the Centre for Disease Control and Prevention.