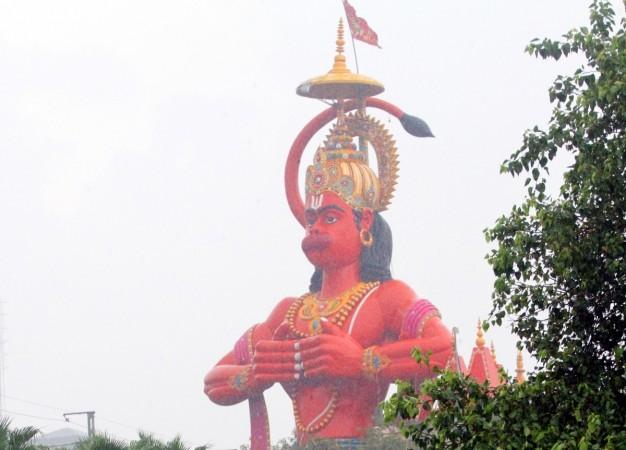 The Delhi High Court on November 20 asked the civic authorities in the capital if a 108-foot high Lord Hanuman statue between Jhandewalan and Karol Bagh metro stations, be airlifted as it is reportedly adding to the increasing traffic congestion.
The HC bench comprising of acting Chief Justice Gita Mittal and Justice C Hari Shankar were referring to a petition filed by an non-government organisation which has alleged that there have been many encroachments in the area surrounding the Lord Hanuman statue, which have to be removed; and this is possible only if the deity is moved from that place.
The bench quoted an instance from the United States where an entire skyscraper was airlifted and was quoted by the Indian Express as saying, "Consider if the statue can be airlifted. Speak to the Lieutenant Governor... In the US, entire skyscrapers are shifted as a whole."
The HC bench reprimanded the municipal authorities who have been asked repeatedly by the court to locate illegal constructions in the region and remove them, yet no one wants to do it, it said.
"If the civic bodies can at even one place show that the law was being enforced, the mindset of the people of Delhi would change," the bench stressed.
The Karol Bagh Station House Offficer, the central range DCP and the chief engineer of the PWD were also been directed to launch an inquiry with regard to the people who were responsible for erecting the idol, as well as those building the unauthorised structures.
Further the court demanded a detailed report from the civic body on those who funded the construction and that who are in-charge of those encroachments.
Earlier this year the Delhi HC had set up a committee to look into the illegal constructions in the capital and had directed the Delhi Development Authority (DDA) to remove all encroachments on the Southern Ridge.
Referring to a report filed by the committee, the bench said that around 1,170 square yards of land on the Southern Ridge, belonging to the DDA, has been encroached upon. This is "completely impermissible," the bench said.