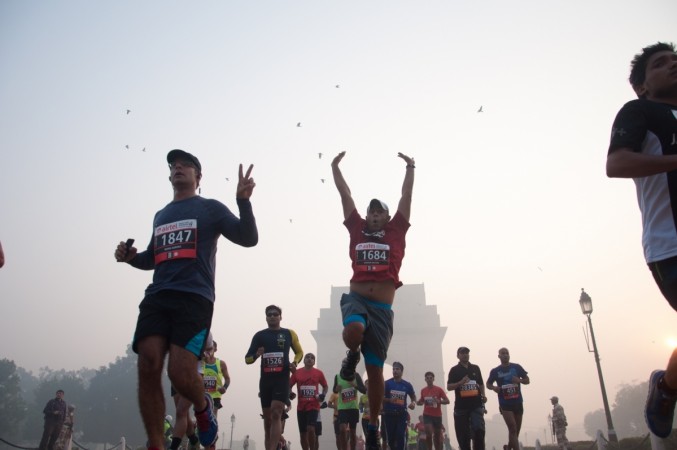 The Delhi half-marathon is set to take place on Sunday, November 20. But on Friday, the Delhi High Court told the Delhi government to issue an advisory to people regarding the high levels of pollution and its dangers.
A bench of Justice Badar Durrez Ahmed and Justice Jayant Nath said, "You should warn everyone that pollution levels are high. Anyone with respiratory or cardiac problems may collapse because of exhaustion. You should not be running in this (marathon)."
Delhi has been plagued by alarmingly high pollution levels over the last month and on November 17, the Air Quality Index showed that levels were "approximately four times more than the prescribed safe standard".
The bench also asked the governments of Punjab, Haryana, Uttar Pradesh and Rajasthan to introduce CNG taxis in the NCR region and phase out all diesel-run cabs. "The All India Taxi Permits granted by these states for taxis to ply inter-state should be streamlined," added the bench. Delhi has about 80,000 diesel taxis and around 35,000 inter-state taxis also which don't run on CNG.
The bench asked, "Why can't Punjab, Haryana and UP stop giving permits to diesel-run cabs? Their polluting vehicles are also coming to Delhi. What are you going to do to prevent the burning of paddy straw, and what is your plan of action for All India Permit taxis to move towards CNG?"
The Delhi half-marathon is likely to see around 35,000 participants this year. In 2015, it raised Rs 7.26 crore which was used to help nearly 150,000 people directly and indirectly through various causes. As of November 17, the 2016 half-marathon had raised Rs 5.5 crore.