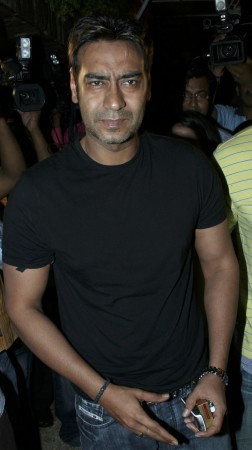 The Delhi government Thursday issued a strict compliance notice to Bollywood actor Ajay Devgn for featuring in a surrogate advertisement of tobacco products.
The State Health Department issued the notice to the actor saying he violated Section 5 of the Cigarette and Other Tobacco Products Act (COTPA), 2003, which bans all forms of direct and indirect tobacco product advertising in the country, the Press Trust of India reports.
"The pan masala (chewing tobacco) advertisement is a brand promotion of tobacco which misleads the consumer, especially the minors, in violation of the COTPA, 2003.Though the onus of the violation of the law lies upon the tobacco company , by featuring in the advertisement, the actor also becomes party to the violation of the act," S K Arora, additional director, Delhi Health Department, was quoted by the news agency as saying.
Arora said the Bollywood actor has been issued a strict compliance notice not to appear in such advertisements which not only mislead the consumer but also promote consumption of tobacco products.
He said the Delhi government also recently filed an FIR against three major tobacco companies on the issue of surrogate advertisements. However, Arora said the Health Department was awaiting action from the Delhi Police.
"We have repeatedly asked the Delhi Police to submit the report, but there was no reply from their side till date," Arora said.
The Delhi government earlier wrote to the wives of four Bollywood actors — Shah Rukh Khan, Govinda, Ajay Devgn and Arbaaz Khan — urging them to not let their husband endorse tobacco products which contain potential cancer-causing agents, the IANS reported.
The letter said even if pan masalas do not contain tobacco or nicotine, they contain areca nuts (supari), and there is currently a lot of scientific evidence to prove it causes cancer.
The Central government has reportedly proposed amendments to the COTPA, 2003, to enforce a complete ban on tobacco advertising, which it says will be in line with the World Health Organisation (WHO) guidelines.
The Union Health Ministry said the amendment bill has been placed in the public domain as part of pre-legislative consultations to include the views of various stakeholders.