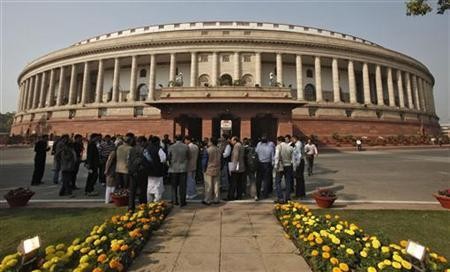 Outraged by the horrific gang rape of a girl in Delhi, angry Parliamentarians on Tuesday slammed the Union and Centre governments for failing to address the rise of crimes against women in the national capital.
The issue was raised in both Houses by the Bharatiya Janata Party. Opposition Leader in Lokh Sabha and BJP leader Sushma Swaraj said rapists should be given capital punishment. "What is the government doing to curb rape cases in the capital?" she asked. "The rapists should be hanged, we need tougher laws to stop rapes," she said, reported NDTV.
A united Opposition demanded suspension of the question hour and sought Union Home Minister Sushilkumar Shinde to give a statement on Sunday's incident, in which a 23-year-old girl was gang-raped in a moving bus. The victim is currently battling for life in a Delhi hospital after sustaining severe damage to her internal organs.
Rajya Sabha Chairman Hamid Ansari assured that Shinde will issue a statement later that day. Parliamentary Affairs Minister Kamal Nath said that the government will take tough steps on the horrific incident.
Ansari was forced to adjourn the House for 15 minutes amid rising uproar from the Opposition. The ruckus resumed shortly thereafter.
Rajya Sabha MP Ram Jethmalani blamed the rise of such crimes on Delhi Police commissioner Neeraj Kumar and sought for his immediate removal.
"The crime situation in Delhi will not improve till you remove the biggest criminal... that criminal happens to be police commissioner of Delhi," he said, reported IANS.
In wake of Sunday's incident, women MPs from NDA constituents on Wednesday will hold a demonstration inside the premises of Parliament to bring to light the repeated instances of atrocities on women in Delhi, said BJP national spokesperson Ravi Shankar Prasad, IBN Live reported.