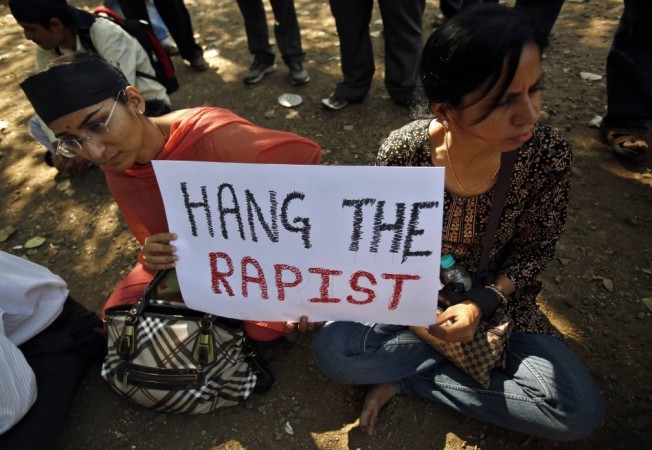 The Saket court in Delhi will announce the sentencing of the four accused in the Delhi-gang rape case on Friday.
The hours-long proceedings with the defence counsel trying to prove the innocence of the accused pushed the court to defer the sentencing, which was expected today, to 2:30 pm on Friday.
The accused were charged for the rape and murder of a 23-year-old woman in the national capital on 16 December, 2012. The victim, nicknamed "Nirbhaya", breathed her last at a Singapore hospital two weeks later.
The incident sparked nationwide protests demanding justice for the victim and severe punishment for her attackers.
While presenting the case, the defence argued for 19-year-old Vivek Sharam pleading leniency on grounds of his age and his sober conduct during his jail term. The counsel also hinted at his ability to reform but the point of showing leniency was rubbished by the prosecution which took in reference the Dhananjay Chatterjee rape case.
Dhananjay, a security guard, was sentenced to death for raping and killing 14-year-old Hetal Parek, who resided in the same building. The prosecution in this context went on to demand death sentence for all the four accused.
"The common man will lose faith in the judiciary if the harshest punishment is not given," special public prosecutor Dayan Krishnan told the court, reported Reuters.
Meanwhile, the victim's mother spoke up against the defence's argument that the accused commited a mistake. "It was not a mistake (the way the defence argued), it was a pre-planned crime, a well thought out murder," she said.
One of the accused while being taken to the courtroom earlier on Wednesday was reported shouting, "I am Innocent" several times. The men had their faces covered and were escorted by policemen.
The scene at the court was frantic with police barricading journalists and others people gathered outside to witness the stormy case which has been subject to debate over the past nine months.
The four accused were convicted by Justice Yogesh Khanna on Tuesday. The court had waived off the defence's claim that the victim had died due to medical negligence, pointing to their brutal act of using an iron rod in the attack.
The girl's parents had demanded death penalty for the accused given the gravity of their crime. The victim, when alive, was also reported to have demanded a similar sentence.
The fifth accused in the case, Ram Singh, had committed suicide by hanging in his jail cell in March. The sixth accused was sentenced to three years in a reform home under the Juvenile Act on 31 August.