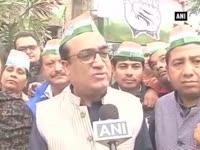 Congress leader Ajay Maken has said his party won't support the Aam Aadmi Party (AAP) in the event of a hung Assembly after the Delhi state elections.
"No way! We would never support Aam Aadmi Party as we feel that AAP and BJP are two sides of the same coin. They have all been together earlier. How long will it take for Kejriwal to pack up and join them?", he said in an interview to NDTV.
Maken also said his party would prefer a third round of elections in the event of a fractured verdict.
Exuding optimism despite most surveys and analysts writing off his party's chances in the upcoming polls, Maken said, "They deliberately don't want to talk about the Congress as they both very well know that the Congress is the dark horse in Delhi like Kejriwal was in the last elections."
During the 2013 elections, though the BJP emerged as the single largest party, it did not have the numbers to form a government, while AAP was the second largest party. After some days, AAP formed a government when the Congress offered outside support to it. The government did not last long, as AAP quit after a brief 49 days.
The Congress is yet to declare its chief ministerial candidate.
Elections for 70 Delhi Assembly seats will take place on 7 February and results will be declared on 10 February.