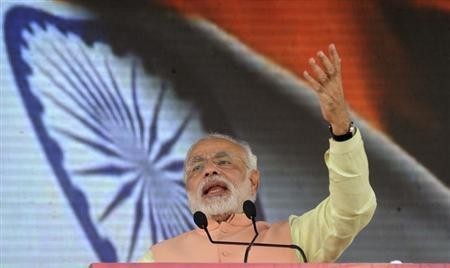 After being denied to hold public gathering at CM Sheila Dikshit's constituency, the Bharatiya Janata Party is gearing to put up LED screens to broadcast live the speech of their prime ministerial candidate Narendra Modi.
Modi was scheduled to hold a total of four rallies for Vidha Sabha elections in Delhi, slated for 4 December.
As per NDTV report, the New Delhi Municipal Council (NDMC) rejected BJP's request to hold a public address in New Delhi constituency, from where thrice Congress leader Dikshit won the assembly seat in 1998, 2003 and 2008.
Aam Aadmi Party convener Arvind Kejriwal would also fight from that same constituency. Opinion polls by AAP and media organizations show that anti-Dikshit votes could split between the BJP and Kejriwal-led AAP. Fearing the outcome, BJP announced that Gujarat CM Modi will hold a set of rallies in the national capital region, which were earlier supposed to be held on 1 December.
After back-to-back rallies in Madhya Pradesh, Chhattisgarh and Rajasthan, Modi will address gatherings at Shahadra, Sultanpuri Majra and Chandni Chowk in Delhi on Saturday.
The BJP has sought permission from chief election officer in Delhi to set up LED screens in all the assembly segments for the people to watch the live telecast of Modi's last rally on 1 December, to be held in Dakshinpuri.
"We had tried to organise rallies of Modiji in all parliamentary constituencies but we were denied permission in New Delhi. So we are exploring other ways to ensure people hear his views," Ashish Sood, BJP's publicity cell, told Hindustan Times.