True to his word Aam Aadmi Party (AAP) chief ministerial candidate Arvind Kejriwal filed his nomination from New Delhi constituency, previously known as Gole Market, on Saturday to contest against incumbent CM Sheila Dikshit in the upcoming assembly elections.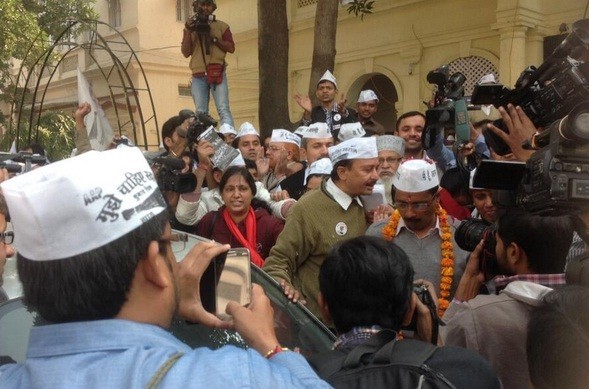 Kejriwal filed his nomination from Jamnagar house for the same constituency as Dikshit, who won the seat thrice during 1998, 2003 and 2008 assembly polls.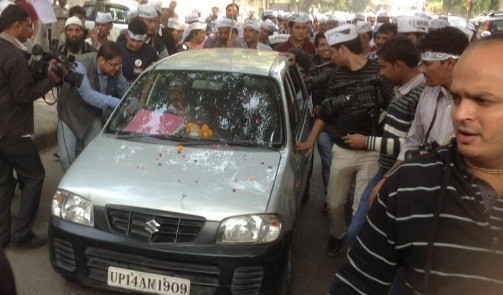 The 75-year-old Dikshit, along with BJP leader Vijendra Gupta had filed their nomination papers on Thursday for Delhi elections from the New Delhi constituency. However, BJP candidate for the CM race, Dr Harsh Vardhan, filed his papers from Krishna Nagar constituency.
While Kejriwal will make his debut in the polls scheduled for 4 December, he has assured voters in Delhi that his party will win 47 percent of the assembly seats, according to a survey conducted by AAP
But the Congress-led Delhi government has maintained that the national party will retain its power in the region for a fourth consecutive term.
During the nomination day, BJP chief ministerial candidate Vardhan told reporters that the battleground in Delhi will see a close competition between his party and the Congress, ruling out that AAP will make its mark in the 2013 polls.
More than 266 other candidates including 20 sitting MLAs and senior leaders of major political parties have filed their nomination papers for the December assembly polls.
Kejriwal filed his on the last day of filing nominations for the assembly seats. He is currently on a 'Jhadu Chalao Yatra' across the 70 constituencies of the national capital. In a first, the AAP will release 70 different manifestoes for each constituency.